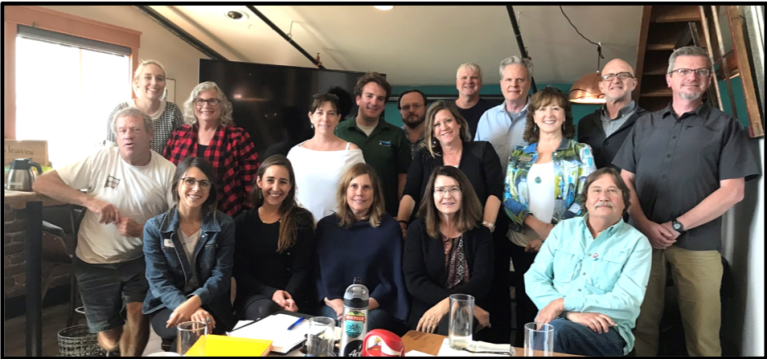 The Colorado Office of Film, Television and Media recently concluded its first Regional Film Commissions Workshop in Leadville, Colorado. 
Often to Coloradans' surprise, Colorado has its own Regional Film Commissions. These 12 offices have been active over the past several years and play an integral role in furthering the film industry throughout the state of Colorado. 
Regional film commissions not only assist with permitting, administrative contacts and knowledge of the visual geography, but also have established several widely-known film festivals. The liaisons at each office provide extensive knowledge of their regions and expertise in navigating local municipal systems to aid in-state and out-of-state filmmakers in realizing their projects. 
These commissions are strategically located across the state to offer personal connection for filmmakers throughout all corners of this expansive and diverse state. These offices, located in vibrant communities that are eager to contribute, learn and partner with the film community, can be found in  Boulder, Colorado Springs, Crested Butte, Four Corners, Glenwood Springs, Leadville, Park County, Pueblo, Steamboat Springs, Southern Colorado (San Luis Valley), Teller County and Telluride. 
The workshop was co-facilitated by Donald Zuckerman, Colorado Film Commissioner and Mariel Rodriguez-McGill, Deputy Film Commissioner. Along with OEDIT staff, the workshop welcomed Regional Film Office liaisons from each of the 12 offices. The Treeline Kitchen Workspace provided the perfect space for a full day of exchanging ideas, talking through best practices and recounting previous learning experiences from each participant's career in the film, theater and tourism industries. 
Brooke Johnson, expert locations manager and veteran of the Colorado film industry, led a discussion around the intricacies and challenges of permitting processes and how to best ensure that your community is film-friendly. Other participants presented on how they are currently activating their home communities to engage film lovers and filmmakers alike.
The Regional Film Commission liaisons are eager to collaborate with interested parties who may have an idea for a landscape or architectural site to film, but don't know exactly where to begin. They can also aid in connecting potential clients with a professional locations scout and local crew members to hone in on the perfect film location. The liaisons can assist with who to contact for permissions and permits as well as sharing a wealth of knowledge about how other productions have structured their shoots in the past. 
For those who are seeking any of these services, they are welcomed and encouraged to reach out to a Regional Film Commission liaison listed above to receive professional and personal insight into the local communities around Colorado.