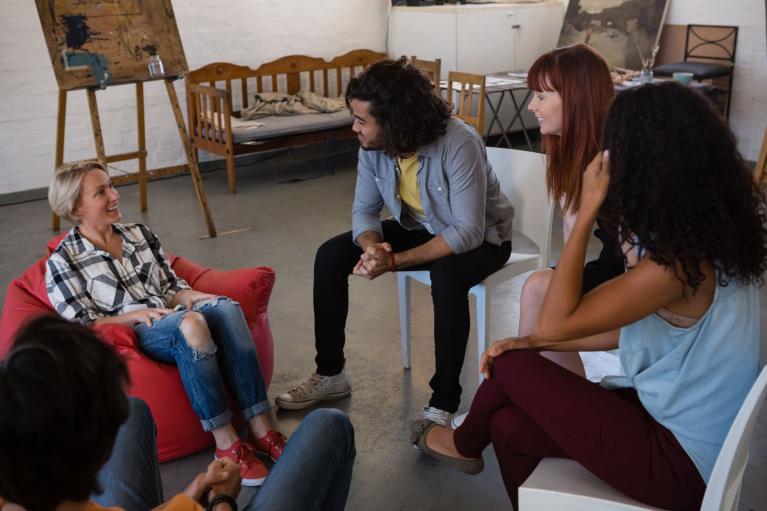 As the only funder in the country to support arts activities in all 50 states and five U.S. jurisdictions, the National Endowment for the Arts announces its second round of funding for FY 2017. This funding round includes partnerships with state, jurisdictional, and regional arts agencies. The NEA will award 16 grants totaling over $2.8M to support Colorado organizations that employ artists and cultural workers to provide programs for thousands of people.
"The arts are all around us, enhancing our lives in ways both subtle and obvious, expected and unexpected," said NEA Chairman Jane Chu. "Supporting projects like the ones in Colorado offers more opportunities to engage in the arts every day."
Colorado 2017 Recipients
Music Associates of Aspen, Inc. (aka Aspen Music Festival and School)
$30,000 Aspen, CO
Art Works - Music
To support Aspen Music Festival and School's music education and engagement project. The year-long AfterWorks educational programming has been designed to supplement public school music education during and after the school day. The Teaching for Our Future project will engage additional teachers to provide music instruction for students in elementary and middle schools of the Roaring Fork Valley. Lessons, after-school classes, and master classes will be offered in instrument and voice study through courses such as Beginning Strings, Lead Guitar, and Maroon Bel Canto Children's Chorus.
Colorado Music Festival (aka Colorado Music Festival & Center for Musical)
$20,000 Boulder, CO
Art Works - Music
To support the Colorado Music Festival. In celebration of its 40th anniversary, the summer festival will feature a retrospective of past programming with a performance by the festival orchestra conducted by founder and original artistic director, Giora Bernstein. In addition, the current music director, Jean-Marie Zeitouni will conduct a series of concerts of rarely performed classical French works. The festival also will include a family and community series, an orchestra and chamber orchestra series, and a guest artist series.
EcoArts Connections (aka EcoArts)
$15,000 Boulder, CO
Art Works - Presenting & Multidisciplinary Works
To support Aspiration to Action: Overcoming Barriers to Creative Connections (A2A) and related activities. In partnership with the University of Colorado Boulder's Institute of Arctic and Alpine Research, Oregon Shakespeare Festival, and other arts and non-arts collaborators, EcoArts will convene virtual and in-person meetings of performing and visual artists, scientists, association leaders, curators, and funders, resulting in an interactive findings report. A2A will create and improve communications among disciplines to expand access, understanding, and implementation of co-created interdisciplinary projects.
National Council on Education for the Ceramic Arts (aka NCECA)
$25,000 Boulder, CO
Art Works - Visual Arts
To support exhibitions, catalogues, and educational programming associated with the national conference for the ceramic arts in Pittsburgh. Exhibitions, lectures, discussions, and workshops will be curated and hosted by organizations throughout the city and region to showcase work by established and emerging ceramic artists. Exhibitions will include nearly one thousand artists, drawing thousands more to the region. Wider engagement will be possible through "Virtual Clay," an online lecture series which will address challenges facing ceramics education in the 21st century.
Colorado Springs Fine Arts Center
$10,000 Colorado Springs, CO
Art Works - Museum
To support a series of exhibitions and related programming exploring themes related to roots and origins. Artists featured may include Wendy Mike and De Lane Bredvik from Colorado Springs, emerging artist Steven Durow-also from Colorado, and Los Angeles-based artist Jennifer Steinkamp. A variety of public programs such as artists' talks, lectures, gallery tours, as well as dance and musical performances are planned to complement the exhibitions.
Central City Opera House Association (aka Central City Opera)
$15,000 Denver, CO
Art Works - Opera
To support performances and a tour of one-act operas. The Burning Fiery Furnace by Benjamin Britten follows three Israelites who were thrown into a furnace for rejecting King Nebuchadnezzar and his worship of gold. A parody of 1950s soap operas, "Gallantry" by Douglas Moore opens with a commercial by the "sponsor" and traces a hospital romance where Doctor Gregg has fallen in love with Lola-who loves someone else. Amy Beach's "Cabildo" shows the story of a French aristocrat who falls in love with an outlaw pirate. Mainstage performances will be part of Central City's 2017 summer festival. Tour performances are scheduled to occur in creative venues across Central City, and in cities along the Front Range.
Creative Industries Division (Colorado) (formerly CO Council on the Arts)
$712,000 Denver, CO
Partnerships (State & Regional)
To support Partnership Agreement activities associated with carrying out your NEA-approved State strategic plan.
Lighthouse Writers Workshop, Inc. (aka Lighthouse Writers Workshop)
$20,000 Denver, CO
Art Works - Literature
To support literary programming for writers of all ages. Programs for youth include classes, camps, and writing labs, as well as workshops conducted for residents of homeless shelters and residential treatment centers. Programs for adults include intensive mentoring for advanced writers working on a book-length project; a literary festival featuring juried workshops and seminars; literary readings and events; residencies; and workshops for those experiencing homelessness. In addition to offering literary placemaking activities such as writing tours across Denver, Lighthouse offers a blog and podcasts with writing advice, author interviews, and more.
New Dance Theatre, Inc. (aka Cleo Parker Robinson Dance)
$20,000 Denver, CO
Art Works - Dance
To support the creation and presentation of new dance works by Cleo Parker Robinson Dance. Choreographer Amalia Viviana Basanta Hernandez, artistic director of Ballet Folklorico de Mexico and the contemporary dance company, Mexico Movimiento, will create a new work inspired by the many derivatives of Spanish folklore dance. Choreographer Garfield Lemonius will create "Catharsis," a new work inspired by the necessity to release and achieve separation from the challenges of life. Both choreographers will create the new works on the company and teach classes to students at the Cleo Parker Robinson Dance Academy.
Western States Arts Federation (aka WESTAF)
$1,667,700 Denver, CO
Partnerships (State & Regional)
To support agency arts programs, services, and activities associated with carrying out your NEA-approved Regional strategic plan.
cmDance (aka CMDance)
$10,000 Denver, CO
Art Works - Dance
To support the Lindy on the Rocks Vintage Dance Festival. The multicultural festival encompasses themed events held in the same venue such as Lindy on the Rocks, Hot Night Fusion, and Denver Vintage Jazz Festival. Activities may include dance workshops, evenings of social dance with live music, educational programs for students, community performances, and classes with guest artists.
City of Durango, Colorado
$25,000 Durango, CO
Art Works - Local Arts Agencies
To support a new public art project as part of the Take pART in Durango Initiative. Under the direction of a lead artist to be selected through an open call process, local students and community members will participate in the creation of a gateway sculpture. Art classes and workshops will teach residents skills in artistic disciplines such as ceramics, mosaic, and welding, allowing them to collaborate on the creation of a sculpture that will reflect the historic and cultural character of the community. The artwork will be installed at a public site marking the entrance to the city.
Phamaly Theatre Company (aka Phamaly)
$20,000 Englewood, CO
Art Works - Theater & Musical Theater
To support a production of the musical "Annie" featuring a cast of actors with disabilities. The production will be staged in the company's summer home at the Denver Center for the Performing Arts. The performance run will include a sensory-friendly performance for audiences with autism or sensory integration disorders, and talkbacks with the cast and the artistic and administrative staff following several performances.
City of Lafayette, Colorado (On behalf of Cultural Arts Division)
$50,000 Lafayette, CO
Our Town - Design
To support programming at The Collective, a community arts hub on Main Street. Programs will include business training workshops for arts entrepreneurs, professional development for local nonprofit arts administrators, networking sessions, and art exhibitions and events featuring local talent. Programs will be developed and implemented by the City of Lafayette Cultural Arts Division, in partnership with the Boulder County Arts Alliance and ARTS!Lafayette. Expected benefits of the project are a stronger, more cohesive arts sector, and greater community participation in local arts activities.
City of Lone Tree, Colorado (aka Lone Tree Arts Center)
$20,000 Lone Tree, CO
Art Works - Presenting & Multidisciplinary Works
To support programming for underserved audiences. Lone Tree Arts Center's programming will reach pre-K through middle school children and seniors. The center also will provide programming for individuals with intellectual or developmental disabilities such as autism, sensory processing disorders, and their families. Arts programming will include theater, visual arts, music, movement, and storytelling.
Telluride Council for the Arts and Humanities (aka Telluride Arts)
$50,000 Telluride, CO
Our Town - Design
To support the Telluride Transfer Warehouse arts center design. Telluride Council for the Arts and Humanities will work with the Town of Telluride on the new center, which will elevate the intellectual and cultural life of the community. All 2,300 residents will have access to this new center for the arts that will be hospitable to local artists and organizations and internationally acclaimed programming.