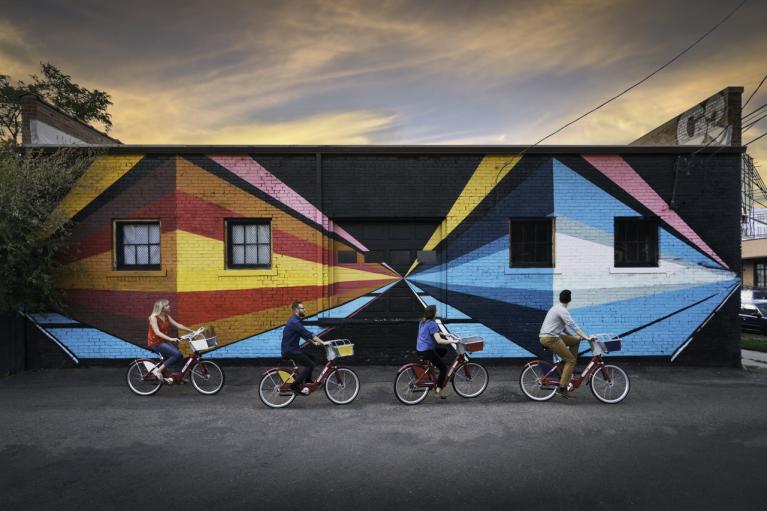 Today, Governor Polis and the Colorado Tourism Office (CTO), within the Colorado Office of Economic Development and International Trade (OEDIT), announced the seven recipients of the Tourism Recovery Marketing Grant funding. The recipients granted this funding come from all across the state. The goal of this grant program is to support the economic recovery of the travel and tourism industry and attract visitors to Colorado cities and towns that are still recovering from the pandemic. A healthy and robust tourism economy is essential to Colorado's thriving economy.
"Colorado is home to inspirational world-class outdoor gems, deep cultural history, and unique destinations that offer endless reasons to visit. So the secret is out: Colorado is an amazing place to visit and to live. Our administration is providing help for communities across our state that are tourism destinations to help our economy thrive, address challenging local issues like affordable workforce housing and create jobs," said Gov. Polis
Each application was evaluated on the strength of a tourism recovery-focused marketing campaign, demonstrated recovery need, measurable tourism impact, quality of budget and timeline and implementation capacity. Eligible projects include city, county or regional tourism marketing and promotional campaigns overseen by nonprofit organizations promoting tourist destinations, Colorado cities or other political subdivisions of the state, economic development district organizations and Indian tribes. 
"Tourism contributes to thriving local economies across the state, and these grants will help communities still recovering from the pandemic see those same benefits," said Patrick Meyers, OEDIT's Executive Director. "This support is an essential part of creating a Colorado economy that works for everyone."
This one-time grant was funded through an EDA American Rescue Plan: Travel, Tourism and Outdoor Recreation State Grant, providing funding to eligible applicants to support the economic recovery of the travel and tourism industry in Colorado through the execution of tourism marketing and promotional campaigns. All marketing campaign messaging must support the travel and tourism sectors and be consistent with CDC guidelines for safe travel. 
"This federal funding allows the Colorado Tourism Office to directly support tourism communities still in recovery from the impacts of the pandemic," said Colorado Tourism Office Director Timothy Wolfe. "We have different communities across the state recovering at different rates, and this additional funding allows our partners to strive to get back to pre-pandemic levels where we saw record visitor spending at $24.2 billion."
This is a historic amount of funding that the CTO has awarded through a grant program, more than doubling the $710,000 awarded last year through the Tourism Marketing Matching Grant. Providing direct support to industry partners allows destinations to market to audiences that lost market share during the pandemic such as meetings and events, group travel, off-season visitors and international travelers. 
The Tourism Recovery Marketing Grant was launched on June 1, 2022, and the deadline for application submission was August 1, 2022. A total of 12 applications were received by the deadline, representing 13 counties throughout Colorado and requesting a total of  $3,227,500. A total of $1.8M will be distributed in various amounts to seven different industry partners across the state. 
The seven organizations receiving grants are:
City of La Junta - La Junta, Colorado - $75,000
The City of La Junta will use this funding to launch its first official marketing campaign, "You Would Never Guess." This marketing campaign will promote the new Visit La Junta brand – "Rich History, Unexpected Adventure," and even newer sub-brand – "Tarantula Trek: A Mating Expedition" over a two-year period.
City of Loveland-Economic Development Corp - Loveland, Colorado - $175,000
The City of Loveland will use the funding to execute a fully integrated marketing plan, which aligns all disciplines of traditional advertising including TV, radio, print, digital, content marketing, social media, public relations, groups sales and community relations. The goal of this campaign is to regain market share lost during the pandemic. The "What's Not to Love?" campaign addresses the primary target audiences of overnight leisure travelers, international market and groups and meetings. 
"We are incredibly grateful to the state for this grant as it will be instrumental in Loveland's continued economic recovery," said Cindy Mackin, Visitor Services Manager with the City of Loveland. "These funds will be utilized to further market Loveland and Northern Colorado as a premiere year-round destination for visitors, groups and conferences."
Colorado Springs Convention & Visitors Bureau - Colorado Springs, Colorado - $400,000
This funding will be used to support a meetings and events marketing campaign leveraging the Olympic City USA brand to generate awareness of the unique options for meetings and events held in Colorado Springs. The association with the Olympics and Paralympics is a unique attribute of Colorado Springs that brings with it recognition and credibility. The campaign will target meeting planners through a multi-media approach including programmatic digital placements, social media, print magazines, destination site visits and trade show attendance. 
"While leisure travel recovery has been successful in the Pikes Peak Region, recovery for meetings and events has lagged behind," said Doug Price, President and CEO of Visit Colorado Springs. "Receiving these grant funds gives us the resources for recovery of our business travel market by leveraging our strong Olympic City USA brand and emphasizing our unique venues."
Denver Metro Convention & Visitors Bureau - Denver, Colorado - $500,000
As the gateway city for most of Colorado's international visitors, the Denver Metro Visitors and Convention Bureau will use the funding for an International Markets Recovery Program to re-establish pre-pandemic programs designed to complement and amplify promotional efforts in key international markets. The Denver International Market Recovery Program would reinstate a Denver-specific consumer and trade public relations presence that aligns with CTO international target markets and generates sustained brand awareness of The Mile High City as a top U.S. tourism destination. 
"The State has been extremely supportive of our of industry, which was disproportionately harmed as a result of the pandemic," said Richard W. Scharf, president and CEO of VISIT DENVER. "In collaboration with the CTO, we are confident this recovery funding will generate significant economic impact by helping to stimulate the return of high spending international visitors to Denver as Colorado's gateway city for so many travelers."
Fort Collins Convention & Visitors Bureau - Fort Collins, Colorado - $175,000
Fort Collins Convention and Visitors Bureau will use this funding to execute the creation and implementation of creative assets, media buys and public relations efforts to bolster year-round visitation, especially in the off-season months. The campaign's target market will be high-value leisure travelers in the top feeder markets of California, Texas, Illinois and Wyoming. They will implement a robust campaign including digital, out-of-home and public relations efforts as well as search engine marketing and targeted outreach. 
"These funds will provide us with a path forward to include new creative assets, paired with media and public relations efforts to leverage our identified brand promise," said Cynthia Eichler, President and CEO of Visit Fort Collins. "Additionally, business travel continues to lag in recovery and these funds will elevate our ability to market to event planners, associations and business - all strengthening the future resilience of tourism in Fort Collins."
Logan County - Sterling, Colorado - $75,000
Logan County will use this grant to execute a "Free Range Travel" marketing campaign aimed at raising awareness of the easy-to-access, affordable and beautiful outdoor assets along the I-76 corridor. Grant funding will support video creation and distribution via promoted social and digital channels. The primary target audience is Colorado's touring visitors, specifically the geographic markets of Colorado, Nebraska, Minnesota, Illinois, Iowa, Wisconsin and Indiana. 
"We are thrilled to receive this grant award to help us bring more of what the Colorado Tourism Office identifies as its number one audience by volume, the touring audience," said Marilee Johnson with Logan County Government. "Located in the corner of Colorado that has not recovered back to pre-pandemic levels, much of Logan County's tourism depends on road trips along I-76."
Visit Aurora - Aurora, Colorado - $400,000
Visit Aurora will create a marketing campaign focused on inspiring, engaging and converting meeting, convention and group bookings in Aurora. The campaign will take a multichannel approach utilizing search, native, programmatic, display, digital and print insertions in high-yield outlets. The primary target will be meeting planners and C-suite executives from association, corporate, government, contract and SMERF (Social, Military, Education, Religious, and Fraternal) groups to drive and convert business at Aurora venues. 
"We are thrilled at the opportunity this grant provides to further our mission to amplify Aurora as a premiere destination for business events and leisure," said Bruce Dalton, CEO and President of Visit Aurora. "As we emerge from challenging times, proactive investment in our vital Destination Marketing Organizations uplifts our entire state."
Recipients will have up to two years from grant award date to execute their projects. For more information on the program, please visit the official program page at https://oedit.colorado.gov/tourism-recovery-marketing-grant.