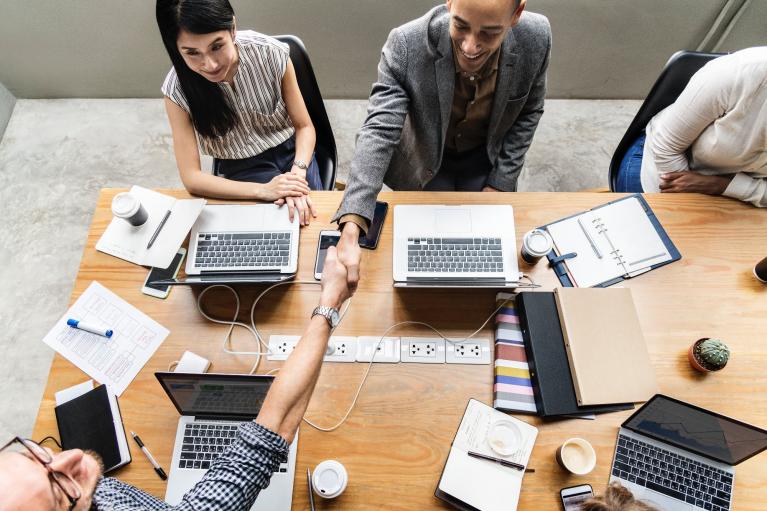 The Colorado Office of Economic Development & International Trade (OEDIT) announced today Glenn Plagens as the New Business Support and Rural Prosperity Director and promoted Joey Jenkins to the role of State Director, Colorado Small Business Development Center (SBDC) Network.
"Glenn brings a wealth of knowledge as a former SBDC center director and a successful small business owner and Joey has proven to be a longtime, valued member of the SBDC team," said Betsy Markey, executive director of OEDIT.  "We think they will make a dynamic leadership team as we move boldly forward with our new initiatives."
In his new position, Plagens will serve on the OEDIT Leadership Team and is responsible for strategic planning, direction, management, implementation and evaluation of four major programs within OEDIT: Employee Ownership, Minority Business Office, Rural Economic Development, and the Small Business Development Center (SBDC).
"I am honored to be at the forefront of Governor Polis' focus on rural prosperity and small business," said Plagens. "From employee ownership to Opportunity Zones, there is great excitement and potential for Colorado's small businesses and I am ready for the opportunity."
As the senior director at the Front Range Community College (FRCC) North Metro Denver SBDC and the Larimer SBDC, Plagens was responsible for the strategic direction, budget and performance of the FRCC SBDC. In this role, Plagens increased overall operational metrics for the center by 600 percent and overall funding of the FRCC SBDC by 400 percent. He launched the first of its kind statewide small manufacturing program with Manufacturer's Edge, the Small Manufacturer's AdvantEdge (SMA). The program was presented as a national best practice by the Manufacturing Extension Program. The SMA program has produced great results with rural Colorado manufacturers.
Plagens worked closely with communities throughout Colorado, from Estes Park to Montrose, to help grow and diversify their economies. Growing up in Michigan and working in rural communities, he understands the unique needs of and challenges of rural economic development.
Prior to leading the FRCC SBDC, Plagens owned and operated his own business with more than $3 million in sales and 20 employees.
OEDIT also promoted Joey Jenkins to the State Director role overseeing the Colorado SBDC Network. Jenkins has been with the Colorado SBDC since March 2012, most recently in the role of Senior Grant and Program Manager. During his tenure, he also served as interim center director for both the Northwest SBDC and the West Central SBDC.
"I'm excited to continue serving the small businesses of Colorado in this new capacity," said Jenkins. "There are a lot of opportunities to advance the Colorado SBDC Network and I'm looking forward to implementing new initiatives to that end."
Prior to joining the SBDC, Jenkins spent time as a senior mutual and hedge fund accountant, and as a general manager in the restaurant industry.  He holds a BS in economics from Colorado State University.