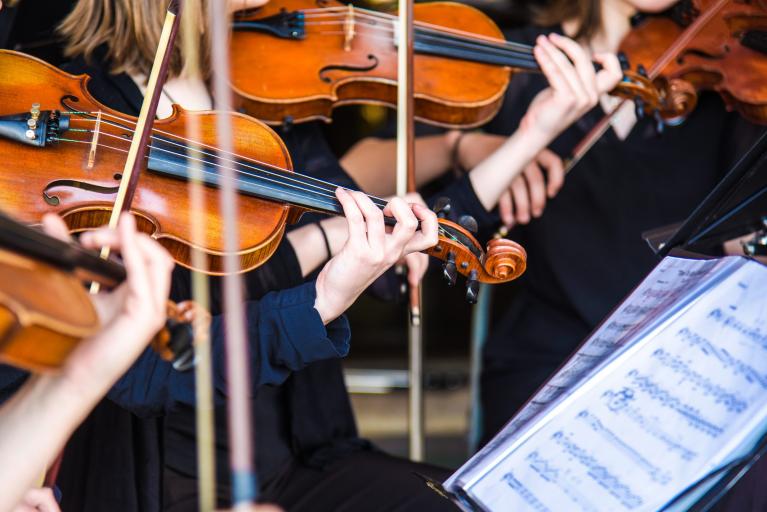 The Colorado Creative Industries, a division of the Office of Economic Development and International Trade (OEDIT), announced today that it is partnering with the Colorado Symphony to celebrate Ludwig van Beethoven's 250th birthday by bringing his iconic music to communities throughout Colorado. 
This year-long event will celebrate Beethoven's unmatched brilliance with more than two dozen performances at The Boettcher Concert Hall and across Colorado, bringing the full orchestra and chamber ensembles to underserved communities in the State.
"We are delighted to be a partner with the Colorado Symphony to ensure the impact and importance of Beethoven is experienced throughout the state," said Margaret Hunt, Director of Colorado Creative Industries at OEDIT. "Studies continue to illustrate the importance and economic impact that the arts have on rural communities, so to be able to support the Colorado Symphony as it shares inspirational musical masterpieces to the state is a natural fit to our economic and rural priorities." 
68.3 percent of Coloradans participate in creative pursuits, ranking Colorado number one in the nation for the percentage of adults engaged in the arts. Due in part to this participation level, the creative sector accounts for 4.3 percent of Colorado's GDP – more than both mining and transportation. 
In addition to the Symphony's Denver performances, eight of the Symphony's statewide performances are in Colorado Creative Districts. Colorado certification requirements for creative districts are some of the highest standards in the nation, predicated on broad-based community engagement and support as well as each community's authentic and unique story and history.
Colorado has 26 of these certified Creative Districts. Research shows that communities that are home to arts organizations experience higher population and income growth than communities that don't have a strong arts community. 
Complementing the Colorado Symphony performances, thousands of students from throughout the Front Range will participate in 12 Youth Concerts at Boettcher Concert Hall throughout the 2019/20 school year, the focus of which will be Beethoven, his musical influences and artists who were influenced by Beethoven himself.
The list of the performances is below. See the complete Colorado Symphony schedule.

BEETHOVEN 2020 TOUR Sponsored by OEDIT (bolded are in Colorado Creative Districts)
Denver
February 21 to 23
Boettcher Concert Hall
Pueblo
March 3 at 7:30
Colorado State University at Pueblo  
Steamboat Springs
March 9 at 7:00 p.m.
Salida
March 11 at 7:30 p.m.
Salida SteamPlant Theater
Crested Butte
March 12 at 7:30 p.m.
New Center for the Arts
606 6th St, Crested Butte, CO
Denver
April 3 to 5
Boettcher Concert Hall
Denver
May 8 to 10
Boettcher Concert Hall
Denver
July 26 at 7 p.m.
Red Rocks Amphitheatre
Montrose - Symphony No. 5
September 8 at 7:30 p.m.
Montrose Pavilion
Grand Junction - Symphony No. 5
September 9 at 7:30 p.m.
Avalon Theatre
Pueblo and Trinidad
September 27 and September 28
Mancos
November 11