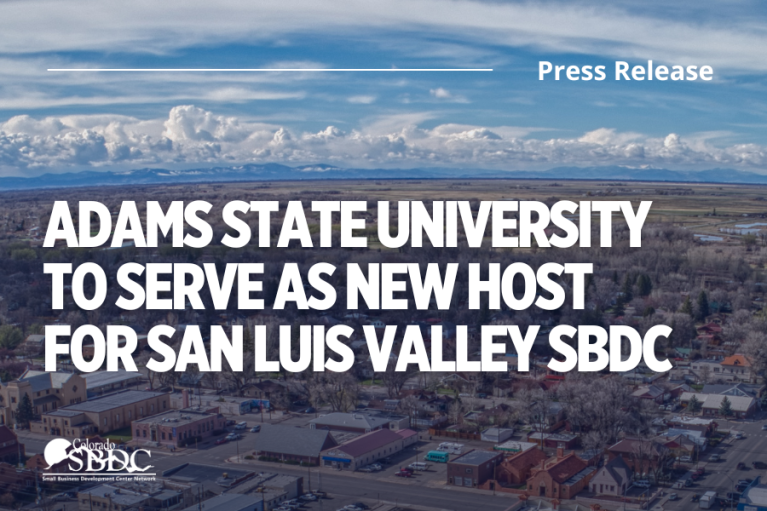 The Colorado Small Business Development Center (SBDC) Network, a division of the Colorado Office of Economic Development & International Trade (OEDIT), announced today that Adams State University has been selected as the new host for the San Luis Valley SBDC. 
The San Luis Valley SBDC is one of 14 statewide SBDC centers focused on helping Colorado's small businesses achieve their goals by providing free, confidential consulting and low or no-cost training programs. Host institutions provide these statewide centers with brick and mortar locations from which program staff can serve businesses, as well as other opportunities to build relationships, develop strategic partnerships within communities and secure the match funding required for the Small Business Administration Grant that funds SBDC centers.
Statewide, SBDCs are hosted by higher education, city, county or regional government institutions. Adams State is the second largest employer in the San Luis Valley, which includes six counties and over 21,000 residents, and serves as the anchor public university for the region.
"The Colorado SBDC Network recognizes the vital importance of small businesses in our communities and Adams State University shares this sentiment. We are thrilled ASU will serve as the San Luis Valley SBDC host," said Hannah Krieger, State Director for the Colorado SBDC Network at OEDIT. "We are eager to support this partnership, as we know it will aid in the impactful work done by the SBDC to help small businesses in southern Colorado thrive."
"The University is proud to serve as host for SBDC of the San Luis Valley," noted David Tandberg, President of Adams State. "The University and the Valley are not siloed and we take pride in assisting the entrepreneurial spirit of this area."
"This is a wonderful opportunity for us to create collaborative offerings between Adams State's business support programs and our local SBDC network. Together, we will continue to have a lasting impact on our local economy. We are committed to ensuring small businesses in San Luis Valley continue to grow and thrive, while also feeling supported by our programming efforts," said Liz Thomas Hensley, PhD, Professor of Business, School of Business Director/Chair.
 
The San Luis Valley SBDC is located at ASU School of Business, 208 Edgemont Blvd, Alamosa, CO 81101. Alamosa, Conejos, Costilla, Mineral, Rio Grande and Saguache County small businesses interested in learning more about the services the San Luis SBDC provides can visit https://slv-sbdc.com/.