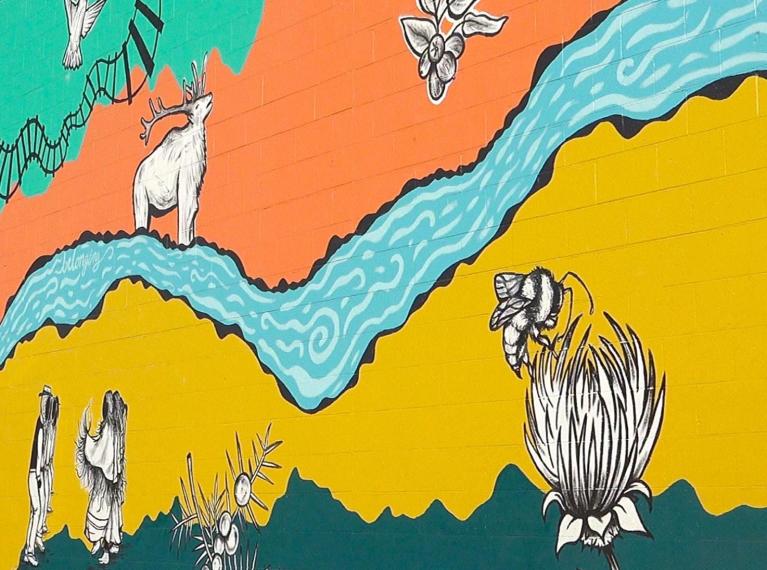 DENVER -- Colorado Creative Industries, a division of the Colorado Office of Economic Development and International Trade (OEDIT), announced today that 14 grantees have been awarded $217,000 in American Rescue Plan funding through Cycle B of the Colorado Creative Corps ARP grant. This funding initiative is supported through Colorado's partnership agreement with the National Endowment for the Arts. 
The Colorado Creative Corps ARP Grant provides funds to individual artists for specific, definable projects that connect artists and organizations to local initiatives. Funded by the American Rescue Plan (ARP), a total of $500,000 is dedicated to supporting employment opportunities for artists impacted by COVID-19 through this funding by building new structures and partnerships that will help to sustain Colorado's creative sector. The awardees for round two are as follows: 
Jennifer Dempsey, $15,000 - Chaffee County: For "White Bear Woman," an original one-woman theater-in-education production that tells the story of 23 year old Lori Piestewa, the first Native American woman to lose her life as a member of the US military.
Andre Carbonell, $12,000 - Denver County: For the creation of the "Slam Nuba" artist residency, which will provide 6-week residencies to literary performance artists who identify as Black, Indigenous, or persons of color.
Brian Corrigan, $20,000 - Denver County: For the "Farm-To-Spaceship x San Luis Experience Accelerator," which seeks to address community and economic development in San Luis, Colorado's "Oldest Town," by activating the community to co-design creative placemaking activities that both enhance the public realm and create experiential offerings for visitors and locals.
Victor Ngo-Smith, $18,000 - Denver County: For the "Refuge Arts" program, which offers immigrant and refugee women and girls, and queer minority youth free weekly group music and art experiences, including community choir, orchestra, drum line, world percussion ensemble, visual art and mural design.
Gregg Ziemba, $18,000 - Denver County: For the creation of a visual album of the "Alice in Wonderland" (All is Wonder) soundtrack written, recorded, produced, and released by the Denver band Wheelchair Sports Camp.
Bernadette Salem, $15,000 - Gunnison County: For the creation and subsequent screening at the "Peace Museum CO," (Gunnison) of a four-part Navajo language documentary series centered around the Navajo musical ceremonies that accompany each of the four seasons.
Yul Jorgensen, $18,000 - Huerfano County: For the creation of murals and programming, including community art workshops and public events, for the second annual FAROUT Mural program in Walsenburg.
Emilie Odeile, $23,000 - Huerfano County: For "FROG: A Fiber Situation," a multi-sensory fiber art exhibition and Lifelong Colorado webinar series that educates and informs municipal leaders across the state on the benefits of pursuing and achieving age-friendly designation. 
James Bruenger-Arreguin, $12,000 - Jefferson County: For "Coyota in the Kitchen," a new one-woman theater piece created by Colorado director James Bruenger-Arreguin and Colorado writer Jessica Kahkoska, produced in partnership with the the Colorado Fine Arts Center at Colorado College and adapted from Anita Rodriguez' award-winning book of the same name.
Tony Diego, $17,000 - Jefferson County: For a community-based art exhibit led by "Los Fantasmas" artist collective in collaboration with the State Office of Juvenile Diversion, GRASP (Gang Rescue and Support Project), and Colorado Circles for Change, which will engage students and families that identify as Chicano, Indigenous, Native or Raza.
Amelia Furman, $4,000 - Larimer County: For "Uniquely Us: Identity in Community," a collaborative project supporting art exploration and expression for young adults in the disability community in Larimer and Weld counties by providing art workshops and the creation of collaborative artwork. 
Chelsea Gilmore, $21,000 - Larimer County: For the creation of community developed sculptural installations in vacant storefronts along the Pawnee Pioneer Scenic and Historic Byway in Morgan County, as well as the installation of a mural at the end of the byway in Fort Morgan.
Will Campbell, $18,000 - Mesa County: For a film and mural project that will highlight the efforts of high school age students in Grand Junction who are working collaboratively on suicide prevention and postvention advocacy.
Briana Harris, $6,000 - Weld County: For the "Bands Give Back" program, which is organized by the band "The Burroughs," and will pair professional musicians and bands with high school music programs in Greeley-Evans School District 6 to deliver guest artist workshops.
The awardees for round 1 can be found here. 
Colorado's largest and fastest-growing creative industries, including music, theater, dance, and visual arts, have been among the hardest hit by the impacts of COVID-19. Estimates are that between April and July 2020, creative industries as a whole lost 59,600 jobs and $2.6 billion. The estimated losses contracted the region's creative economy by 31% in terms of employment and 8% in annual sales revenue. 
Margaret Hunt, Director of Colorado Creative Industries, says, "Colorado's arts, culture and entertainment industries play a critical role in our economy and are essential to our recovery and resiliency. These projects build community and foster an important sense of belonging. The Creative Corps ARP program offers direct funding to individuals, helping to ensure a strong recovery for the arts in Colorado."
Arts, culture and entertainment play a key role in Colorado's economy with higher than average industry growth in all regions of the state from 2010-2019. Creative Industries generated $31.6 billion in sales of goods and services in 2019. This figure represents 4% of all goods and services sold within the state, more than mining or transportation.