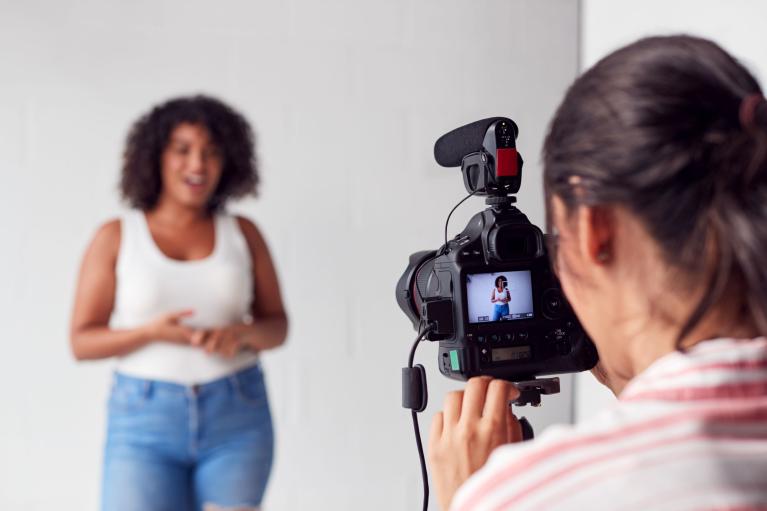 The Colorado Office of Film, Television and Media (COFTM), housed within the Office of Economic Development and International Trade (OEDIT), is known for attracting and facilitating content creation in the state to generate economic growth in all Colorado communities. They also connect film industry workers to resources that equip them with the tools to succeed. 
What many may not know is that along with aiding the growth of the film industry, COFTM also works with many state agencies to support their office priorities through the resources and connections that COFTM has established over the years. This support often manifests in the form of educational videos that support state agencies' missions.
Safe2Tell and Teens2Teens Suicide Prevention Campaigns
One of these projects was recently launched as COFTM partnered with the Colorado Attorney General's Office and Janicek Media on a PSA campaign bringing awareness to teen mental health and suicide prevention.
The Attorney General's Office had already been working on the initiative Safe2Tell, but joined conversations with OEDIT film commissioner Donald Zuckerman about getting a local filmmaker involved to distribute the information. 
COFTM introduced Jim Janicek of Janicek Media to the Attorney General's Office to bring the project to life with matching grants from COFTM and the Attorney General. This partnership resulted in Teens2Teens, a PSA campaign that uses teen voices to reach students across the state that may be struggling to get in touch with resources to support them. Since their launch in October 2019, the videos have been viewed more than 3,000 times.
Census2020 support
Another project COFTM is working on is Census2020. Still in the early stages, COFTM has partnered with the Department of Local Affairs (DOLA) and the Colorado Secretary of State to create a half-hour film exploring the history of the census and the importance of the upcoming 2020 census. 
COFTM approached the Colorado Film School at the Community College of Aurora to create the film which will focus on three key areas: the importance and ease of the census project, and why it is safe to share personal data with census-takers. Colorado acknowledges the importance of including all voices and COFTM aims to facilitate that process and increase education and awareness around the upcoming census.
"Partnerships are a way of pooling resources and knowledge, and we welcome the opportunity to collaborate with state agencies to amplify the reach of important projects and programs," shared Mariel Rodriguez-McGill, deputy film commissioner for COFTM. "We look at the resources and connections we have developed in our office and we hope to utilize them to support other missions with which we are aligned."