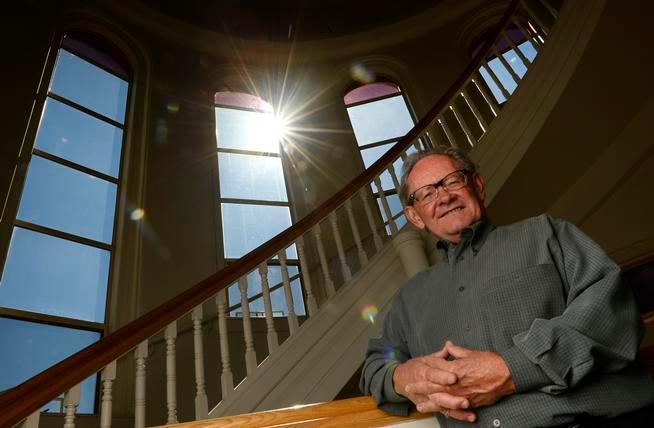 Governor John Hickenlooper introduced Joseph Hutchison as Colorado's most recent Poet Laureate in September of 2014. In this role, Hutchison serves as an advocate for poetry, literacy and literature in Colorado. Activities of the Poet Laureate include visiting local schools and libraries, participating in Arts & Humanities Month, and reading at literary festivals. Traditionally, the Colorado Poet Laureate serves a four-year term, but exciting new work has prompted the decision by program organizers to extend Hutchison's term for an additional year.
In support of the World War I Centennial project at the Arvada Center for the Arts and Humanities, Mr. Hutchison has written a short play called War of Words that will be performed on March 14 at 7:30 p.m. War of Words fleshes out the conflicting and conflicted reactions to the U.S. entry into WWI and showcases poetry by American women, whose responses to the war were varied, subtle, and powerful—certainly as strong as the work of their male counterparts. "Participating in the World War I Centennial project allowed Colorado Humanities to bring forward for discussion many perspectives on the United States' involvement in WWI and its effect on American society.  Using the rich language of poetry, Joe has created a vehicle for reflection and discussion about the experience of war," said Margaret Coval, Colorado Humanities Executive Director.
With War of Words now available, Colorado Humanities and Colorado Creative Industries (CCI) have invited Hutchison to extend his term to help share the new work with a broader audience statewide. CCI Director Margaret Hunt remarked, "We're pleased that Mr. Hutchison has accepted our request to extend his term. The extension will also allow a new Governor to be a part of the selection of the next Poet Laureate and align the ongoing Poet Laureate calendar with the Governor's term."  There will be a call for nominations for the next Poet Laureate in April (Poetry Month).  Nominations for the new four-year term will be due in the fall of 2018, with the selection announced in early 2019.
Please visit coloradohumanities.org to learn more about the Poet Laureate's history and role in the literary life of the state. Sign up for Colorado Humanities & Center for the Book and Colorado Creative Industries newsletters to stay posted on the call for nominations for the next Colorado Poet Laureate.
About Joseph Hutchison
Joseph Hutchison, current Poet Laureate of Colorado, is the award-winning author of 16 poetry collections, including The World As Is: New & Selected Poems, 1972-2015; Marked Men; The Satire Lounge; Thread of the Real; and Bed of Coals. He has also published a translation of Ephemeral, by Mexican fabulist Miguel Lupián, and co-edited two poetry anthologies—Malala: Poems for Malala Yousafzai from FutureCycle Press (all profits to the Malala Foundation) with Andrea Watson, and with Gary Schroeder, A Song for Occupations: Poems about the American Way of Work. At the University of Denver's University College, he directs three programs for working adults—Professional Creative Writing, Arts & Culture, and Global Affairs. Born and raised in Denver, Colorado, Hutchison lives in the mountains southwest of the city with his wife, Iyengar yoga instructor Melody Madonna.