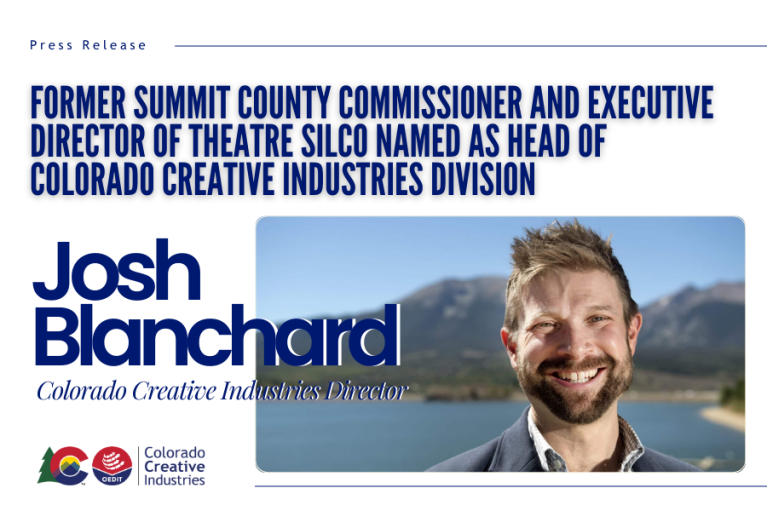 DENVER – Today, Governor Polis and the Colorado Creative Industries (CCI) division within the Colorado Office of Economic Development and International Trade (OEDIT) has named Joshua Blanchard Director of Colorado Creative Industries. Blanchard brings a rich amount of arts experience to his new role as CCI Director, including serving as Executive Director of Theatre SilCo. He will oversee the state's arts agency leading efforts to position Colorado as a hub of innovative thinking, practice and business, expanding creative economies and supporting placemaking across the state. He begins his new role September 5.
"Art and creativity make Colorado special and help small businesses thrive. I'm so excited Josh Blanchard is joining our Colorado team to help build Colorado's creative community and enrich the lives of all Coloradans," said Governor Jared Polis. 
Blanchard brings to OEDIT an interdisciplinary arts background, previously serving as Executive Director of Theatre SilCo, where he was responsible for the general operations of the theater including donor cultivation, grant writing, development, execution of marketing and branding strategies and overall management of the financial functions. His career began as an actor performing on stage. That experience led him to eventually leading a theater, playing a critical role in raising nearly $10 million for a new performing arts complex. During his tenure, the theater became one of the few unionized small professional theaters in the state. 
He most recently served as a Summit County Commissioner where he focused on policies most important to his constituents including economic development, housing, sustainability, water, and childcare. Blanchard also worked to provide housing for his employees which included a variety of programs such as creating leasing agreements with and purchasing hotels to increase housing supply.
Blanchard also has deep experience and membership in a variety of artistic organizations including serving as an organizational and individual member of Americans for the Arts, and Actors Equity Association Union. He recently served on the 2015 National Alliance for Musical Theatre Fall Conference Committee and co-chaired the National Fall Conference in New York City in 2017. His work there focused on Equity, Diversity, and Inclusion. His honors include the Colorado Theatre Guild Henry Award in 2013 for Best Actor in a Musical. Other accomplishments include being recognized with the True West Culture West Award a few times - as an actor in 2012, administrator in 2017 for Theatre SilCo, and as an honoree for keeping theater alive during the pandemic years in 2021.
"We are excited to welcome Josh to OEDIT where he will lead the continuing efforts in advocating for and representing the arts and creative communities in Colorado," said OEDIT's Executive Director, Eve Lieberman. "His diverse work experience in the arts will serve him well leading Colorado's arts agency. His workforce housing experience will support CCI's efforts to build out the Space to Create program and support creative economies across the state." 
As Director of Colorado Creative Industries (CCI), Blanchard will work with Governor-appointed members of the Council on Creative Industries and CCI staff to thoroughly understand all facets of the Colorado creative ecosystem, its diverse businesses, arts & culture and civic society constituents all while developing a shared vision for CCI. From there he will work to create alliances and partnerships with other governmental agencies, businesses and private foundations to extend and amplify resources and serve as a leader on behalf of the state, region, and nation on matters related to arts, culture, and creative industries as economic and community drivers.
"I'm thrilled to join the team at OEDIT. Colorado's creative sector is vital in bolstering local economies, providing unique job opportunities, and celebrating culture and quality of life throughout Colorado's diverse communities," said Blanchard. "It's a critical time for artists, arts organizations and creative districts in addressing the unique challenges of responding to post-pandemic realities within the creative sector. I'm honored to work with the talented CCI team in advocating and supporting efforts to ensure Colorado's creative sector remains as vibrant tomorrow as it is today."
As a lifelong educator, artist and arts administrator, Blanchard believes human expression through the arts and humanities empowers and gives meaning to individual and civic spaces. He holds a Bachelor of Arts from the School of Arts and Humanities from the University of Texas at Dallas and a Master of Humanities from the University of Colorado at Denver. Blanchard and his family live in Silverthorne.