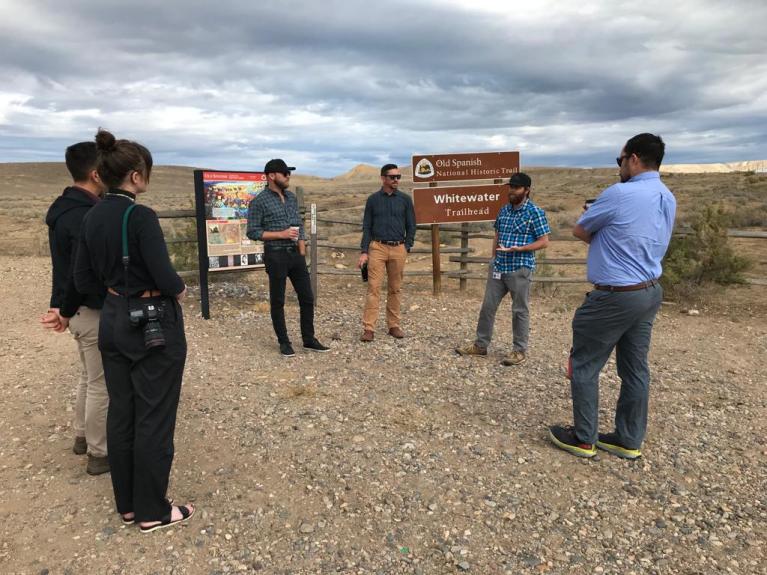 Today, Governor Polis and the Colorado Outdoor Recreation Industry Office (OREC) of the Colorado Office of Economic Development and International Trade (OEDIT) announced the first 10 recipients of the Colorado State Outdoor Recreation grant. These grants promote economic development in Colorado's vibrant outdoor recreation sector and have been awarded to organizations across the state from Alamosa to Cortez and Colorado Springs to Grand Junction. 
"We are saving people money, supporting our thriving outdoor recreation industry, and strengthening our strong economy while making sure more Coloradans can have fun in our world-class outdoors," said Gov. Polis. "These exciting grants are part of our work building a Colorado for All and making sure Colorado remains the best place to live, work, and enjoy the outdoors."
OREC staff conducted a summer listening tour across the state to raise awareness about the funding opportunity. 
"The outdoor recreation industry is central to Colorado's identity and economy. The recipients of the State Outdoor Recreation Grant truly reflect the best the industry has to offer, and we're proud to provide financial support to programs and organizations that improve backcountry safety, connect marginalized groups to the outdoors, and plan for the future by balancing economic vitality with resource protection," said OREC Director Conor Hall. 
"The State Outdoor Recreation Grant demonstrates how thoroughly the outdoor recreation industry touches all four corners of the state. These grants will support organizations and projects that are growing the industry and will contribute to a healthy Colorado economy that works for everyone," said Patrick Meyers, OEDIT's Executive Director.
The Colorado State Outdoor Recreation Grant is the first grant program offered by OREC and was made possible by funding from the U.S. Economic Development Administration (EDA) State Tourism Grant. 
"Across the State, our office has heard from community leaders and outdoor recreation stakeholders about the challenges that face the industry today, not least of which are affordable housing and climate change. The massive demand for this funding is a testament to the robust industry of outdoor recreation in Colorado and the need to support its development. We are so proud to provide this funding to help build a Colorado where generations to come can work and play in the outdoors," said OREC Program Manager Matt Nuñez.
Between June and September, the OREC team completed 13 trips to 26 counties and met or reached 400 people through 12 listening sessions as well as individual meetings and site visits. These visits offered insights into the need for funding that exists across Colorado's outdoor recreation industry and the creative uses its partners foresee for grant opportunities. 
"I continue to be encouraged and energized by Colorado choosing to remain a leader in the outdoor recreation industry space. VF and our collection of brands are both humbled and inspired by the ecosystem that these grants help create," said Luis Benitez, former OREC Director and current VP of Gov Affairs and Global Impact at VF.
The grant program launched on June 1, 2022 and a total of 25 applications were received by the first deadline of June 30, 2022, representing 15 counties throughout Colorado and requesting a total of $5,826,207. A total of $3.9 million will be distributed through the Colorado State Outdoor Recreation Grant, with applications reviewed on a quarterly basis. The review process is underway for the September 30, 2022 deadline and the next deadline for applications is December 31, 2022.
The ten organizations receiving grants are:
Adaptive Adventures - Westminster, Colorado - $57,588 
Funding will support the Access Adventure program, a program designed to get Coloradans with physical disabilities into the great outdoors and specifically, state and national parks. Program experiences include hiking, climbing, and paddle sports throughout the state. This grant will allow Adaptive Adventures to hire seasonal and part-time team members, including Certified Therapeutic Recreation program staff, that will significantly expand programming opportunities and the experience provided to children, adults, and veterans with physical disabilities and their families.
American Institute for Avalanche Research & Education - Telluride, Colorado - $90,000
The American Institute for Avalanche Research & Education (AIARE) will use these funds to support four instructor training courses in and near Ouray, Steamboat Springs, and Leadville, Colorado during the 2022-23 winter season. The grant will cover instructor and administrative expenses and support training for 60 avalanche educators that will, in turn, benefit clients across the outdoor recreation economy in Colorado and beyond. AIARE partners with 31 employers in Colorado for an expected economic impact of $1.8 million in course revenue as a result of instructor trainings over the next two years. 
"Backcountry travel is booming across the US, but particularly in Colorado. AIARE is working with our 38 providers in Colorado to deliver avalanche education to create a professional workforce so that we can meet the needs of people entering the backcountry, and continuing educational needs of people who are already in the backcountry. We train these individuals who are instructors who go on to teach the public. Many of them work in other areas of snow safety — ski patrollers, avalanche forecasters, CDOT workers, backcountry guides — these folks are all focused on public safety for individuals who are recreating or even just driving through the backcountry," said Vickie Hormuth, Executive Director of the American Institute for Avalanche Research & Education.
Aspen International Mountain Foundation - Aspen, Colorado - $25,000
These funds support marketing efforts for the 6th Global Meeting of the United Nations Mountain Partnership held in Aspen, CO. These efforts focus on an outdoor industry side-event that showcases Colorado companies, NGOs, and partners supporting the outdoor recreation economy and workforce. 
Colorado Outward Bound School - Denver, Colorado - $100,000
Colorado Outward Bound School (COBS) will put this grant toward workforce development and payroll expenses. Half of the funds will be directed toward the Staffing Manager and Community Engagement Coordinator to enhance recruitment and retention throughout the organization. The remaining half will support the Emerging Leaders Fellowship to create pathways into the outdoor industry for people with historically marginalized identities. 
Girl Scouts of Colorado - Denver, Colorado - $100,000
The "Creating Outdoor Opportunities for Colorado Girls" program creates excitement about outdoor recreation through camps and by linking girls to education and career opportunities. Through this program, girls learn program development and delivery, group management, risk management, and facilitation skills. They also gain hands-on, real-world practice by shadowing full-time camp instructors and eventually leading programs under the supervision of paid camp staff. This prepares participants for jobs as camp instructors and provides transferable skills that could be used for other outdoor recreation career opportunities.
The Live by Living Foundation - Lakewood, Colorado - $47,000
By funding a Program/Volunteer Manager position, this grant will help the Live by Living Foundation develop the Cancer to 14K program, a ten-week conditioning program for cancer survivors and caregivers across three tracks of progressing difficulty. This staff person will focus on developing partnerships with cancer treatment centers and fitness centers, as well as the recruitment and training of hike leaders to execute the program. 
Mesa County Public Health - Grand Junction, Colorado - $74,666
Mesa County Public Health will develop a master plan for the Gunnison Bluffs and Old Spanish Trail area south of Grand Junction. Mesa County is the primary landowner in the proposed project area, with additional segments owned by the BLM and private landowners. The current trail system was primarily created through social ridership, rather than sustainable trail planning and design. The master plan will address navigation and safety concerns along with trail deterioration. 
"We are incredibly grateful to the Governor's Office for acknowledging our efforts in public health. That includes quality outdoor experiences to improve both physical and social health. We're committed to making the outdoors accessible to everybody in our community and that includes well-connected and accessible trail systems," said Jeff Kuhr, Director of Mesa County Public Health.
Montezuma County - Cortez, Colorado/Montezuma County - $98,759
Montezuma County is partnering with local municipalities, Dolores County, the Ute Mountain Ute Tribe, Mesa Verde National Park, and other stakeholders to further explore the long-term economic impact of outdoor recreation in the region. Grant funding will cover full expenses and fringe costs of completing an OREC and Cultural Heritage Asset Use Study, an Economic Impact Study, and a Strategic Implementation Plan.
"Montezuma County is hopeful about the outlook of our outdoor recreation and heritage tourism economy. The communities in this region understand that diversifying our economy will increase our resilience to economic shocks. This grant opportunity will allow us to understand the value of each of our outdoor recreation and heritage assets and to prioritize projects that will have the most economic impact while preserving these assets," said Travis Anderson, Montezuma County Administrator. 
San Luis Valley Great Outdoors - Alamosa, Colorado -  $100,000
This grant will fund the development of a master plan for the Heart of the Valley Trail. The trail is a collaborative effort between San Luis Valley Great Outdoors (SLV GO), private landowners, and local governments to develop a 154-mile trail that would span the width of the San Luis Valley. $57,500 of this funding will support personnel costs with the remaining funding going towards a preliminary environmental review, trail assessments, legal counsel, and administrative expenses. 
Rocky Mountain Field Institute - Colorado Springs, Colorado - $75,000
Funding to support workforce development and job creation; employee recruitment, pay, and retention; stewardship capacity; and staff training opportunities for Rocky Mountain Field Institute (RMFI) seasonal stewardship crews and project management professionals. An estimated 32 staff positions will benefit from this funding each year between January 2023 and December 2025.
"The grant will be instrumental in helping us develop our workforce for the next 3 years and beyond. Our industry has not been immune to the workforce challenges that many other industries are facing as well. Support from the Colorado Outdoor Recreation Industry Office will be significant in helping us hire experienced, skilled employees from diverse backgrounds. A primary focus for the organization moving forward is reaching a more diverse audience with different perspectives and life experiences to help not only share our mission but also provide employment opportunities. It'll also help us get excellent training for our staff members as well as develop their competencies and skillsets, and get them set up for success as future leaders in the industry. We're very excited about the opportunities this funding will present us," said Carl Woody, Interim Executive Director of the Rocky Mountain Field Institute.