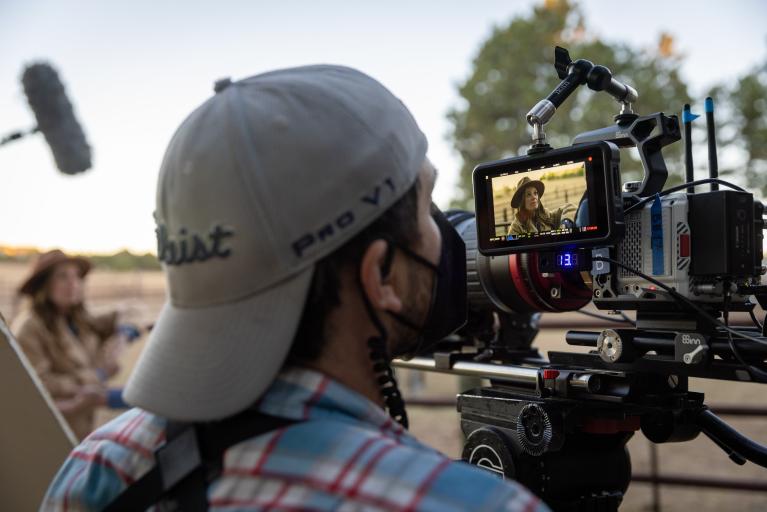 There's a certain kind of excitement that comes with seeing your home state in a movie or television show. Colorado Springs residents might be able to relate when they recognize some of the locations in two 2022 film productions, The Engagement Plot and The Happy Camper. Both were filmed primarily in Colorado Springs and were supported by OEDIT's Office of Film, Television and Media (COFTM). At the Film Office, we've seen how the benefits of local film production go beyond hometown pride. Projects like these also create jobs and generate revenue in Colorado communities. 
The Engagement Plot is set in rural Colorado and tells the story of Hanna and Will, two participants in a reality dating show. Will broke Hanna's heart on national television when he picked a different contestant. Now he's back after the relationship he initially picked ended poorly, with a different outrageous proposal.
The Happy Camper follows Dillon, who returns to her grandfather's farm in Colorado after heartbreak. Once there, she works with hardware store owner Jordan to restore a 1960s camper.
Both films were executive produced by Jim Janicek from Janicek Media, Brian Bird, Access Media Group, True Brand, and Offspring Productions. Brian Bird is a Colorado writer and producer best known for his work on When Calls the Heart. Jim Janicek is a producer, filmmaker, and the CEO and founder of Janicek Media. He has produced countless films in Colorado, and is best known for his creation of ABC's hit comedy franchise ABC TGIF. 
Janicek is working to help create a sustainable film industry in the state with projects like The Engagement Plot and The Happy Camper, and COFTM's Colorado Film incentive has helped.
 
"We want to see Colorado flourish in the TV/movie production business. It's got the right ingredients and has just needed the right business model applied to make it happen," said Janicek. "When I shared the model with Brian Bird and his partners, and then added to that the Colorado Film Incentive, the numbers worked and it made sense to test the waters with a few films." 
The film incentive offers a performance-based rebate for up to 20 percent for qualified production expenses. On average, they create a 22-to-1 return on investment for the economy, through jobs and local spending.
"They also benefit the Colorado film industry as a whole by highlighting Colorado's beautiful, film-worthy locations and giving cast and crew professional work experience that furthers their careers," said Kelly Baug, COFTM's Deputy Film Commissioner. 
The Colorado Economic Development Commission awarded both films incentives in August of 2021. The Happy Camper wrapped filming in March of 2022, and post-production wrapped in May. The production spent $724,000 locally, employed 60 local cast and crew members, and was approved for an incentive of $144,800.
Filming for The Engagement Plot wrapped in November 2021, and post-production wrapped in March of 2022. The production spent $739,634 locally, employed 48 local cast and crew members, and received an incentive of $147,000.
The Engagement Plot will premiere on UPTV on August 21, 2022 at 5 pm Mountain Time. The Happy Camper will be available to watch this fall. Sign up for the COFTM newsletter to stay up to date on future screening opportunities.