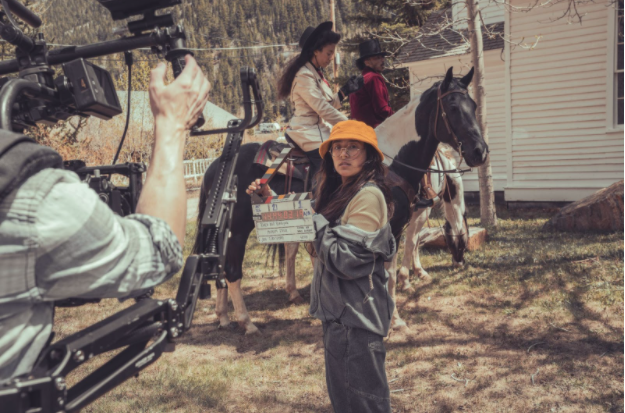 Fantasy Sci-Fi Western TV Pilot Wraps Production in Colorado
A new, local television production has finished filming in Colorado. In November 2021, production wrapped on Raven and Blackjack. One of many local productions the Colorado Office of Film, Television and Media has incentivized in the last year, the Raven and Blackjack pilot is a fantasy, sci-fi western set in Colorado. The 30-minute pilot utilized multiple filming locations along the front range and in rural Colorado, including trails in Georgetown, the Georgetown Railroad and a private horse ranch in Boulder.
The story follows a fictional Black family in Colorado: an adventure-seeking set of twins and their mother who is a prolific inventor. The project was inspired by series creator Meryem Ersoz's interest in comic books in her youth and her dissertation research about patent officers in the 1800s, specifically a prominent Black patent officer. Ersoz wanted to spotlight stories that are not typically represented in film and television, and especially not in the fantasy, sci-fi or western genres.
The production's application for the Colorado Film Incentive was approved by the Colorado Economic Development Commission in June 2020, though production was delayed by COVID. The production was approved for a $23,354 incentive based on projected qualified local expenditures of $116, 770. In total, the production had a local Colorado spend of $123,216, for an estimated total economic impact of $221,573. The production also employed 42 local cast and crew members out of the 45 member total workforce, well over the 50% local hire requirement for the incentive.
Ersoz has been working in the Colorado film industry for many years, producing countless films before writing and directing her own projects. Ersoz also owns Blackwing Air Sea Land, a film equipment company specializing in high-tech and advanced equipment, like the arm car used during filming for Raven and Blackjack.
With production having wrapped, the Raven and Blackjack pilot is almost complete. After completing the visual effects and color correction, the next step is shopping around the pilot to be picked up for a full series, with the intention of keeping the production in Colorado.
​​The Colorado Office of Film, Television and Media attracts and facilitates content creation in Colorado to generate economic growth through the Colorado Film Incentive. The incentive creates jobs for Coloradans and provides, on average, a 31-to-1 return on investment for the economy while highlighting Colorado's beautiful locations and supporting Colorado's local film industry.