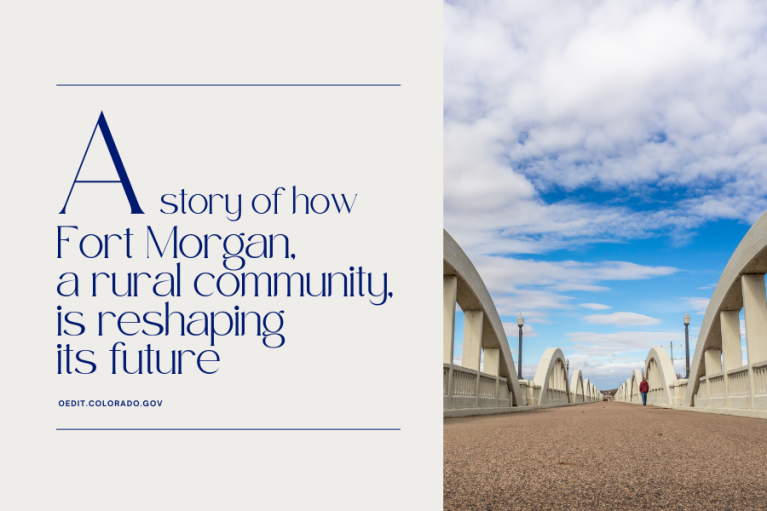 Butterflies swirling, the tiniest drops of sweat forming above the eye, a chittering smile almost as if a significant temperature drop just occurred. It's the feeling of intense nervousness balanced with fierce excitement that fills the space. One last pitch to get Fort Morgan the coveted HGTV Home Town Takeover season two spot. 
Then… the news drops.
"The event was surreal, like something out of a dream. Everything seemed to be happening in slow motion," says Kristin Clifford-Basil, Executive Director of Morgan County Economic Development and Tourism.
Imagine the pitch of a lifetime is actually no longer a pitch. 
"We didn't know Fort Morgan was already selected. We thought we were one of the finalists and this was going to be our chance to pitch Fort Morgan one last time," says Clifford-Basil.
Screams, cheers, tears, the reveal was made.
"It was really exciting to see community members of all ages show up to support Fort Morgan. We were eager for this opportunity," says Clifford-Basil.
The opportunity to be featured on TV in such a positive way is massive. Not only because of just being on TV, but because of what that could mean following the original airing of the show. Home Town Takeover season one featured the town of Wetumpka, Alabama. The town saw about 1,200 visitors a week before the show. Following the release of the show which was watched by 24 million people in tourism weekly, the city saw a 318% increase in tourism weekly. For a smaller city like Fort Morgan, that type of tourism increase could be life changing for the community which is one of the reasons the Colorado Economic Development Commission approved film incentives for the project.
Yes, there are incentives for creating television shows and films.
When selecting locations for filming, production companies often look for localities with incentive programs that help reduce costs. Colorado's film incentive offers a performance-based rebate of up to 20% for qualified production expenses. On average, they create a 18-to-1 return on investment for the economy, through jobs and local spending. For the completion of the show, HGTV will receive an incentive for centering season 2 of the show in Colorado. They are anticipating spending over $2.4 million in the state, generating almost $270,000 in taxes, with 19 local hires as part of the production. This is incredible economic activity for the Fort Morgan community. 
"Incentives are the lifeblood of the film and television industry. We're thrilled that the Colorado Film Incentive helped make it possible for Home Town Takeover to film in Fort Morgan. The film incentive program was designed to support a sustainable Colorado film economy so that communities like Fort Morgan can benefit from the employment opportunities, a production's investment in the local community and even increased tourism," says Arielle Brachfeld, Colorado Office of Economic Development & International Trade (OEDIT) Deputy Film Commissioner. 
Due to season one of the show, there's a lot that can be learned and applied following its airing. Luckily Wetumpka was more than happy to share. 
"The community worked with Wetumpka, the first Home Town Takeover, to learn about their experiences, what they did, and what they wished they knew," says Clifford-Basil. 
With the insight gathered from Wetumpka, Fort Morgan is preparing for an economic change and there are a few programs Colorado is providing to help the community take advantage of this impending tourism boom. The Colorado Tourism Office recently granted Morgan County a Tourism Management Grant to install signage at three visitor center locations. As a lot of the incoming tourism will be due to the show, this grant allows the city to define what the visitor experience will be. 
"I'm considering who might watch the show, who might visit after watching the show, and how we can use this national spotlight as a platform for business expansion and recruitment that will have positive long-term impacts," says Clifford-Basil.
Other programs benefiting Fort Morgan include the designation of being a Rural-Jump Start Zone which allows businesses to access grant funding and tax credits to grow their businesses. Also by having a Tier One Just Transition designation, Morgan County has been allocated Coal Transition Community Grant funding. These funds are intended to support regional economic and workforce development activities that expand local business, create new good-paying jobs, and create more diversified and strong local economies. Oh, and can't forget about the Opportunity Zone designation which encourages long-term private investments in designated areas by giving investors tax incentives for investing in real estate projects and operating businesses. All of these grants and programs live under OEDIT, a phonetically weird acronym that stands for the Office of Economic Development and International Trade. All of these economic programs are part of the goal of supporting rural communities.
That's two grants, three investment centric designations and one film incentive all for the purpose of allowing residents of Fort Morgan to create a new economic future for themselves. Home Town Takeover will serve in a way as a launch pad and invitation, telling the world that Fort Morgan is open for business and the show is invested in helping get this message out following filming. The city prepared extensively for the response to said invitation. 
According to Clifford-Basil, "we are working closely with the Home Town Takeover marketing team to strategize a plan that makes sense for Morgan County." 
The show will provide a massive economic boost to the city but the city is responding by making sure they are able to sustain that new economic energy. The resources detailed above will also assist with that big time. 
Turning to the show, season two definitely looked different than season one. Ben and Erin Napier, hosts of "Home Town Takeover" enlisted a little help this season as revitalizing Wetumpka was a massive project for the two to manage. Dave and Jenny Marrs from "Fixer to Fabulous" joined in on the efforts for season two and their design and small town perspectives really helped in revitalizing Fort Morgan. It also was nice for the duo to become a foursome. 
"While it is scary to take on a project of this scale, it helps so much to have a team to carry the load," says Erin Napier. 
The project is huge as a total of 18 renovations across homes, local businesses, and public spaces took place, according to HGTV. Not only that but the foursome got some additional help from Food Network talent. Ten stars from Food Network also joined in to help Fort Morgan and it's all been captured for viewing pleasure. 
One project to look out for when watching is the "sprucing up of the downtown business district," according to HGTV. "The City of Fort Morgan is sponsoring a series of trainings for businesses to help them enhance their brand, marketing, and advertising efforts to take advantage of this opportunity," says Clifford-Basil. 
The Colorado Small Business Development Network (SBDC) provides a variety of services to small business owners across Colorado including no cost advising services. Fort Morgan business owners are able to access SBDC services through the East Colorado SBDC office.
There's the physical transformation which is great but local business owners are being equipped with tools to transform their businesses in their own image which is even more meaningful. The pairing of these two things will be potent.
In season one, 24 million people tuned in but with the addition of the Marrs and Food Network stars, could season two get to maybe - 30 million viewers?
Those results remain to be seen but many people discovered the magic of Fort Morgan, Colorado. For those butterflies, just drink a little tea, close your eyes, and take a deep breath. A transformation has taken place, what comes from it remains to be seen, one thing is for sure, it's incredibly exciting!