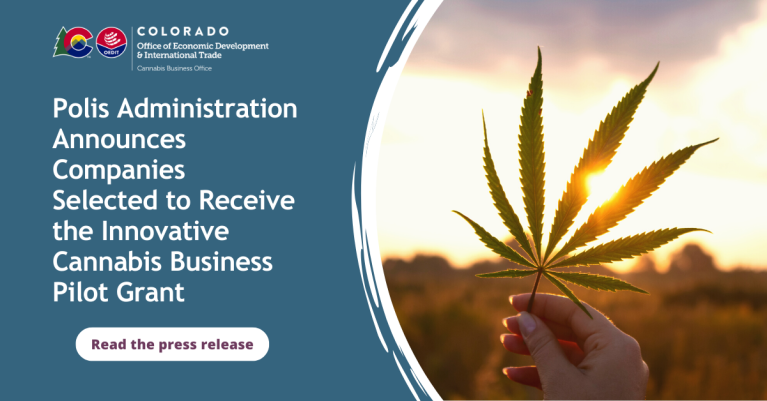 DENVER - The Polis Administration today announced the 16 businesses selected to receive the Cannabis Business Office's Cannabis Business Pilot Grant, an innovative program to save small businesses money, foster equity and diversity in the cannabis industry, and create good-paying jobs for Coloradans.
"Our nation-leading work promoting equity and supporting innovation in Colorado's thriving cannabis industry supports our economy, saves small businesses money, and ensures our state remains the best business-friendly destination in the country," said Gov. Polis. "I'm proud to see this multi-year effort result in transformative grants to deserving applicants."
An initiative of the Office of Economic Development and International Trade (OEDIT), the grants provide financial support for cannabis businesses who were already awarded a social equity license to accelerate the growth of their businesses. The grant is supported by direct industry engagement via the Marijuana Tax Cash Fund, dedicated to reinvesting into the industry's future growth.
The Cannabis Business Office provided grant applicants with educational and professional development opportunities as a part of the grant-making process. Applicants were required to complete a business development curriculum and create business plans and project proposals. The grant process was designed to ultimately prepare applicants with the foundational knowledge and materials for future success, as well as equip those in Colorado's Cannabis Industry with a robust skillset to continue our state's leadership in the space.
The selected recipients are all social equity licensed cannabis businesses who have been awarded, or are actively pursuing, a regulated business license from the Marijuana Enforcement Division. 
The businesses selected to receive the first round of the grant include:
Apollo Limited
Canna-Couriers
Colorado Kush
Cb1 Logistics
Delta-9
Different Strokes 2.0 Puff N Paint Sip Art Studio
Flora Cannabis
Go Harvest LLC
Grn Bus
IDY Packaging Distributors
Kaylx Brands
Meta-Zon CannClub
Mile High Lounge (Ganja Games)
Paly
Pufflow.com
Tetra Hospitality Group
To be notified of future rounds of grant funding, subscribe to the Cannabis Business Office monthly newsletter.