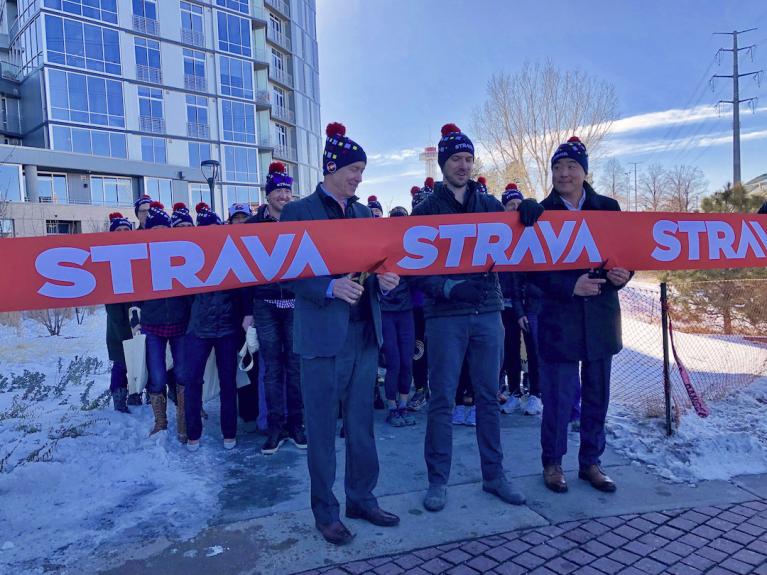 "Social network for athletes" to bring tech jobs to Denver
Strava, a GPS tracking app for athletes, announced today that it will open a new office in Denver. The company, which develops and operates mobile and online applications for athletes worldwide, will bring close to 100 new technology focused jobs to the state. Governor John Hickenlooper joined Strava CEO James Quarles and Eric Hiraga, executive director of the Denver Office of Economic Development, at Confluence Park to make the announcement.
"Strava made a great decision in choosing Colorado as their third U.S. location," said Gov. John Hickenlooper. "They will have access to a highly educated and energetic workforce. Colorado shares their values and is dedicated to protecting our outdoors and ensuring opportunities for all to live a healthy lifestyle."
Anticipated to begin operations in Denver in spring 2018, Strava will focus first on building product development and design teams. The company will look to hire local engineers, product designers, product managers and similar talent and is anticipated to create 89 net new jobs over eight years.
"With the abundance of talent in Denver, we know it's a perfect fit for our mission and team," says James Quarles, Strava CEO. "Colorado is a magnet for tech companies and active people because of its progressive approach to city planning and the outdoors. We're excited about this next stage for Strava's expansion."
"We're proud to welcome Strava to Denver's fast-growing roster of innovative firms," said Eric Hiraga, executive director of the Denver Office of Economic Development. "This is a great addition for Denver's IT and active lifestyle sectors, while supporting job creation."
Strava is already working with the Colorado Department of Transportation through the Strava Metro program to help make riding, running and walking across the Front Range better. CDOT uses aggregated, anonymized data from Strava athletes to help evaluate and build better cycling and pedestrian infrastructure.
About Strava
Strava is the social network for athletes. Our mobile apps and website connect millions of active people every day. All athletes belong on Strava, no matter where they live, which sport they love or what device they use. Join the community at strava.com.