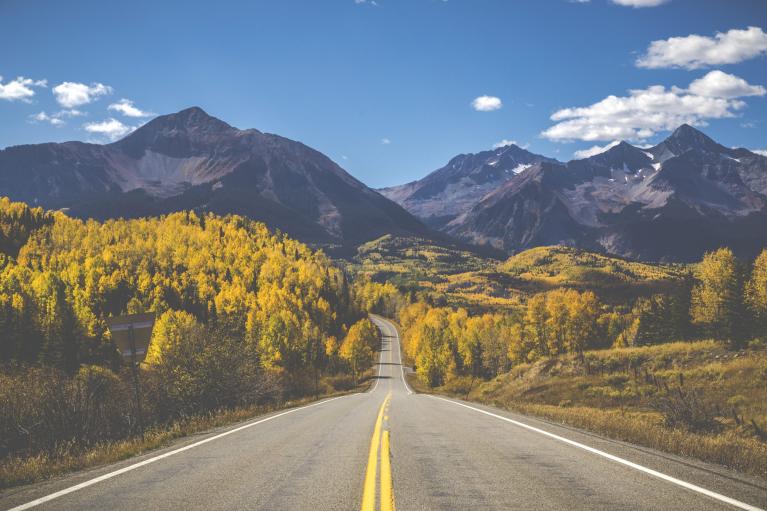 History Colorado State Historical Fund awarded grant to support content development through a competitive process
As many people in the state begin to look for travel inspiration and plan their next Colorado road trip, the Colorado Tourism Office (CTO) encourages travelers to explore the state's 26 designated Scenic and Historic Byways. Colorado has the most America's Byways® - the highest designation a byway can receive - of any state in the nation. A newly-launched microsite developed by the CTO features each of the 26 byways with a collection of traveler resources including an overview video, travel itinerary, trip tips, side-trip recommendations, and a photo slideshow.  
"While many travelers recognize the Scenic and Historic Byways emblem, this new collection of resources allows travelers to go beyond what they thought they knew about the roads less traveled in Colorado," said CTO Director Cathy Ritter. "The byways criss-cross and connect communities and beloved destinations from Mesa Verde National Park to Comanche National Grassland and everything in between. We hope Coloradans  find inspiration from this new collection of resources as in-state road trips emerge as a safer travel option and summer vacationers begin to hit the open road."  
Colorado is in the Safer at Home and in the Vast, Great Outdoors Phase, which implements measures that will allow Coloradans and others to recreate in the great outdoors while maintaining a sustainable level of physical distancing. Coloradans are encouraged to check local listings before planning a trip and be aware that many communities require the wearing of facial coverings in stores and other enclosed environments.
Colorado's Scenic and Historic Byways microsite was the result of a grant from the History Colorado State Historical Fund (SHF). SHF grants are awarded through a competitive process. This grant signifies that the CTO values high-quality historic preservation and demonstrates strong public and community support. Colorado's microsite will increase preservation awareness in the byways communities and across Colorado. 
Two of Colorado's Scenic and Historic Byways received nationwide recognition from the National Scenic Byway Foundation in its Inaugural 2020 Byway Organization Awards. Trail of the Ancients won the Private-Public Partnership Award for the restoration of the McElmo Creek Flume and construction and management of the byway's scenic overlook of the flume. Highway of Legends won Honorable Mention for a Marketing & Communications Award for the Highway of Legends TravelStorys app. The TravelStorys app project was the result of a CTO Marketing Matching Grant awarded to Huerfano County.