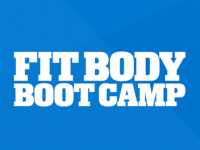 "At Fit Body Boot Camp, our personal training sessions are exciting, high-energy workouts and they're only 30 minutes long -- meaning you'll be challenged and making progress for every second of your workout.

That's because our commitment is to deliver "The Best 30 Minutes of Your Day." We accomplish this by having the friendliest coaches, the most positive community, and the most dynamic workouts -- all in a clean, modern space maintained to the higher standards.

The greatest advantage of personal training is that it comes with direct motivation and feedback from a knowledgeable, caring coach. That's why, at Fit Body Boot Camp, we are so proud to make personal training results available to more people.

Plus, our community-driven atmosphere gives our members the support they need for the emotional side of fitness. It's always easier to make a change for the better when you have others beside you on the same journey."
Address
16255 West 64th Avenue, Arvada, Colorado 80007
Email
admin@fitbodyarvada.com
Title
Owner/Director of Operations