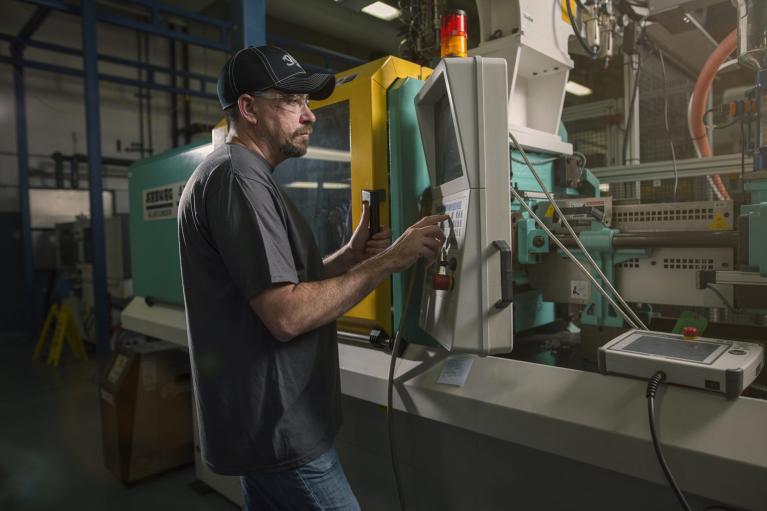 ARVADA, Colo., Sept. 19, 2017 (GLOBE NEWSWIRE) -- SAS Manufacturing LLC yesterday unveiled a new advanced machining facility for design, manufacturing and assembly of aerospace components in Arvada, Colo. SAS Manufacturing expects to more than double the facility's workforce of skilled machining technicians, managers and apprentices over the next 24 months.
A photo accompanying this announcement is available at http://www.globenewswire.com/NewsRoom/AttachmentNg/bf584faf-c8d5-4d18-91f8-fc8ecf071ab1
The fully renovated 25,000-square-foot building is equipped with state-of-the-art manufacturing systems, including automated 5-axis milling and 3D printing capabilities, to serve a growing government and commercial client base worldwide.
"The Arvada facility is among the most advanced manufacturing plants in the state," said Heather Bulk, President and CEO of SAS Manufacturing. "It is home to the latest automated machining equipment integrated into a web-accessible portal that makes the entire manufacturing process transparent to the client."
The September 18 open house featured comments from U.S. Rep. Ed Perlmutter, Arvada Mayor Marc Williams, and Jay Lindell of the Colorado Office of Economic Development and International Trade. The event was attended by Denver aerospace executives and industry partners, members of the Colorado Space Business Roundtable and Arvada Chamber of Commerce.
"SAS Manufacturing is the perfect example of how a small business is becoming a vital part of our aerospace economy," said U.S. Rep. Ed Perlmutter (CO-07). "SAS Manufacturing helps ensure we have the skills and ability to design and manufacture items for the aerospace industry and other industries right here in Colorado."
"On behalf of the entire City Council, and the Citizens of Arvada, we are pleased and honored that Special Aerospace Services has made such a significant investment by relocating to Arvada," said Arvada Mayor Marc Williams. "This is a high-quality employer that enhances employment opportunities and services for our community and the Nation."
The SAS Manufacturing plant opened for business in mid-July following a relocation of personnel and equipment from its previous headquarters in Englewood. The facility currently employs 13 machining and assembly technicians and managers, as well as manufacturing apprentices. In response to the growing demand for quality spacecraft and aircraft parts and components delivered in a timely manner, the firm plans to expand manufacturing activities and hire additional personnel, more than doubling its skilled workforce to 30 people in the coming 24 months.
The AS9100 and ISO9000 certified facility is equipped to handle the entire design, manufacturing, and assembly workflow for projects related to:
Rapid Prototyping & 3D Printing,
Design & Precision Machining, and
Assembly & Component Testing
The centerpiece of the plant's advanced manufacturing capabilities is a monoBLOCK 5-axis milling machine from DMG MORI, one of the most precise computerized numerical control (CNC) metal fabrication devices in the world. A second DMG MORI 5-axis milling machine has been ordered and will be installed in 2018. In addition, there are 4-axis CNC machines and several 3D printers for manufacturing with alloys, high-strength plastics and composites.
As part of an ongoing effort to build a 21st Century workforce in Colorado, SAS Manufacturing has launched its own apprenticeship program for local high school students and participates in Colorado CareerWise, an initiative to create apprentice positions in multiple industries statewide. SAS Manufacturing's first CareerWise apprentice joined the firm in early September.
SAS Manufacturing is a wholly owned subsidiary of Special Aerospace Services LLC (SAS), a tactical engineering firm. Both companies are 8(a) certified woman-owned small businesses supporting commercial and government clients in aerospace, aviation and other high-tech industries.
"At SAS, our mission is to serve as an Aerospace Lifecycle Partner for our clients, and the Arvada manufacturing plant plays a key role in this," said Bulk. "The SAS team can take a client's concept from design and prototyping to testing and production in a few weeks."
SAS supports the entire program lifecycle for aerospace clients by providing strategic services during the proposal phase followed by tactical engineering expertise in the development of new space systems. Precision manufacturing is then critical in the rapid prototyping of new hardware components required to create innovative solutions that will evolve from development to production. And finally, SAS oversees procurement of subsystems and components as the program moves into the operational phase where recurring support is provided.
SAS Manufacturing LLC (www.sasprecisionmfg.com)
SAS Manufacturing, a Colorado-based precision manufacturing company, specializes in design, precision machining, prototyping, 3D printing, and additive manufacturing, and services the Aerospace, Defense, and Commercial Industries. Committed to ensuring the highest quality standards in manufacturing, the company has received AS9100C/ISO9001:2008 Certification. An 8(a) Certified and Woman-Owned Small Business, SAS Manufacturing is a wholly owned subsidiary of Special Aerospace Services LLC, an engineering firm with more than a decade of expertise in the aerospace and aviation industry. Together, the two companies offer a seamless workflow from concept and design to prototype and production.
About SAS (www.specialaerospaceservices.com)
Special Aerospace Services LLC (SAS), an 8(a) certified woman-owned small business, is a tactical engineering and precision manufacturing firm. The team is comprised of experienced and dedicated visionaries, including engineers, scientists and space operation specialists. SAS provides innovative solutions to NASA, Department of Defense and emerging international and domestic commercial spaceflight organizations. Leading experts in propulsion, the team is sought from multiple agencies to provide clients with smart and rapid solutions tailored to their needs. In-house tactical capabilities supported by broad and extensive experience, the SAS team helped clients to win over $4 billion worth of new work. Decades of expertise allows SAS to navigate through competitive environment and rapidly respond to clients' evolving business challenges. With over 20 years of experience working with international partners in the Ukraine, Russian Federation, European Union and India, SAS is poised to face the challenges of an increasingly internationalized aerospace industry.
Originally published https://www.globenewswire.com/news-release/2017/09/19/1124829/0/en/SAS-…