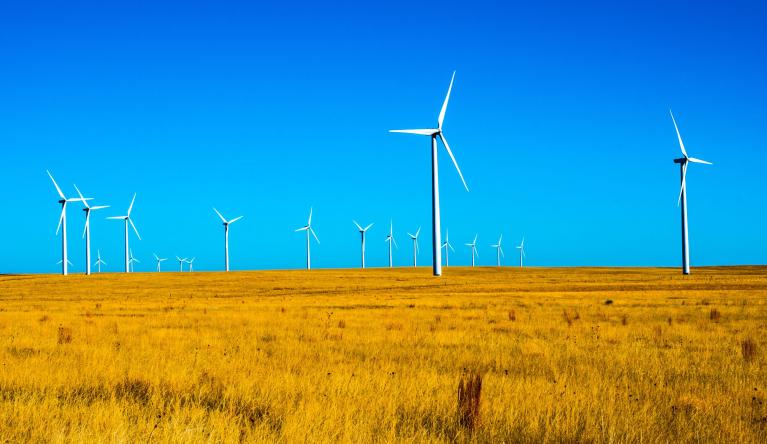 Renewable energy is at the forefront of a global conversation about how to produce energy while the planet's finite resources are becoming depleted. The United Nations listed "clean and renewable energy" as one of its Sustainable Development Goals–– a call to action for all nations to prioritize how energy is produced in a responsible manner. In order to see a highly-functional model of what the UN describes, look no further than the renewable energy boom that is exploding in Colorado.
With a big four policy platform of transitioning the electric grid to 100% renewable by 2040, Colorado welcomes innovation and is a proud leader in the clean energy arena. Although some would question whether the state can achieve such a lofty goal, Coloradans have seen firsthand what the pioneering spirit has done for this state over centuries of hard work and innovation. Electricity from renewable resources has already more than doubled since 2010 as it was approaching 25% in 2017. This percentage is growing exponentially and the potential for new businesses to embark on a clean energy journey with Colorado is endless. 
Colorado has been the choice of over 6,000 energy businesses, and this number continues to climb as the state's highly-skilled workforce and state-based initiatives continue to grow. Not only does Colorado have a plethora of natural resources such as wind and solar power, but its existing gas and oil reserves are also some of the most bountiful in the country. Here are some reasons why Colorado is a leader in renewable energy, and why companies, and their employees, have made the Centennial State home.
Colorado's renewable energy commitment
The diverse landscape of Colorado is ripe for renewable energy. Situated just to the west of the Great Plains, you'll find arid deserts, river canyons and snowy mountaintops of the Rockies located within the 8th largest state in the US. Businesses that focus on renewable energy have a wealth of natural resources to draw from, including over 300 days of sunshine per year. 
Having some of the nation's best natural resources is just the beginning. Colorado's state government has made renewable energy a priority in its legislature and business models.
Colorado was the first state in the US to pass a voter-approved renewable energy standard, which requires that all investor-owned utilities acquire 30% of their electricity from renewable sources by 2020. This major shift towards sustainable energy by both the legislature and the voting public shows Colorado's commitment to clean, renewable energy. In Colorado, renewable resources are not just a trendy buzzword; they are a viable path toward alternative energy that is anticipated to continue its growth.
Success stories in Colorado's sustainable energy sector
What's working well in Colorado's sustainable energy sector, which is the nation's 7th largest producer of energy? A partnership with 30 federally-funded research laboratories has resulted in 440 U.S. patents in clean energy. Businesses looking for innovation, natural resources and a forward-thinking workforce find Colorado the perfect fit for their renewable energy headquarters. Here are just two Colorado success stories that illustrate how renewable energy is at the forefront. 
Woodward
Originally focusing on aerospace engineering, Woodward has created a new branch of its operations committed to wind turbines and energy storage. The company's background in engineering, combined with Colorado's wealth of skilled workers, produced the Woodward CONCYCLE converter, which aims to create the highest possible energy yield for both onshore and offshore wind turbines. 
Woodward has also created a unique solution to stabilize the energy grid during peak demands with its energy storage systems, another result of the company's crossover engineering expertise that is blooming in Fort Collins, Colorado. With the addition of its renewable energy division, this 150-year-old company is poised to maintain its roots in Colorado, even while expanding to over 40 nations worldwide.
Lightning Systems
Committed to revolutionizing large fleet transportation, which still relies heavily on diesel fuel, Colorado's Lightening Systems creates zero-emissions powertrains for larger vehicles. From quiet, battery-powered vans all the way up to city buses, Lightening Systems focuses on re-purposing batteries and components in older diesel vehicles into their zero-waste electric systems.
Colorado commits to businesses and employees
Cooperation in Colorado extends beyond the employees of successful workplaces. The state has created grants and initiatives that provide incentives for businesses to begin, or re-locate, to the region. In addition to giving businesses the tools to grow, expand, and become leaders in their renewable energy fields, employees find that the work/life balance of Colorado makes it hard to imagine living anywhere else. Between an affordable cost of living, expansive outdoor activities, a vibrant culinary scene, and a world-class arts community, Colorado provides a culture that welcomes people who like to work hard and play hard.
Companies at the forefront of renewable energy and its technologies are in high demand globally, since their forward-thinking methods of sustainable energy are coveted by local, regional, and national governments. With this type of limitless possibilities, abundance of resources and collaborative environment, it's clear why renewable energy businesses are choosing Colorado.
Learn more about Colorado's Energy and Natural Resources industry