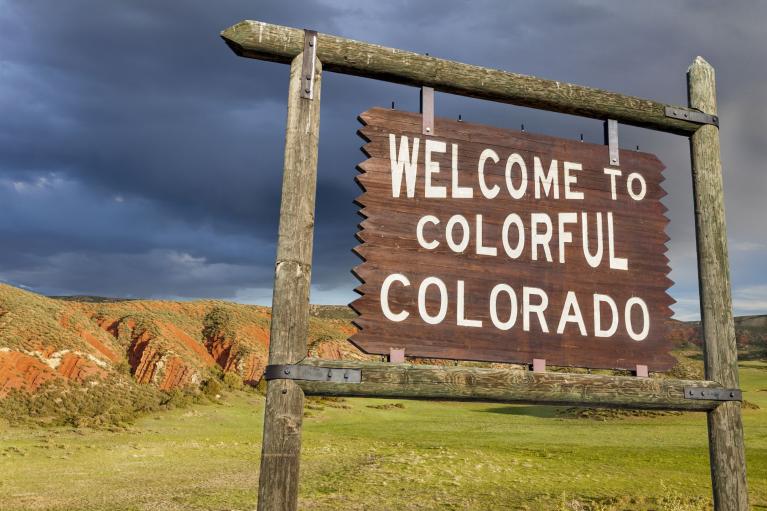 If you're lucky, you might experience certain moments while traveling when you immediately ease into that place. Things feel comfortable there, and you wonder how a place so far away can feel so right. It fits you so well that you picture yourself staying.
This experience is well-known to many Australians who have found their way to Colorado. The steady stream of Australians converting to the Colorado way of life has led to growing diplomatic and business relations. The Colorado Office of Economic Development & International Trade welcomes this developing relationship with plans to visit Australia in September 2019 to connect with companies considering expansion in the US.
Many factors contribute to Australian companies' selection of Colorado as their United States business venture and home base. We take a closer look at some of these below. 
Access to the US market
In 2018, US News & World Report ranked Colorado as the top state economy in the US. For foreign companies hoping to break into the US market, Colorado is the place to be. 
A contributing factor to Colorado's successful companies is "consumers here are more representative of mainstream American consumers and thus our testing helped us build a product with widespread consumer appeal. We would not have had the same success in coastal cities," said Bryan Leach, CEO of Denver-based startup Ibotta. 
The central location is also ideal for engaging with clients across the US. Some of the country's largest business markets--San Francisco, Los Angeles, Chicago, Houston, and New York--are just a short flight from Denver. 
Ideal time zone
The ideal location of Colorado also eases communication, making it easier to collaborate with offices in Australia. In his blog post "Why is the Australian Startup Scene in Colorado Booming?," Tom Humphrey of venture capital firm Access Venture Partners says, "keeping to a time zone that supports cross-Pacific team collaboration and overlap of office hours is really important." 5 pm in Colorado is 9 am in Sydney, making it convenient for the US and Australian offices to stay in touch.
Access to talent
The secret that US companies already know and Australian companies are soon learning, is that Colorado is a hotbed of talent with the second most highly educated population of any US state. This is because Colorado is an attractive place for young, educated people. Also, the local universities produce large numbers of talented graduates each year, eager to find jobs that allow them to stay in the state they love. 
Some of the most recent tech companies adding large offices in Colorado include Google, Facebook, Slack, Amazon, and Checkr. Australian companies can leverage the same competitive advantage. 
Lower costs
The lower cost of living in Denver compared to coastal cities like San Francisco greatly benefit companies. According to Metro Denver Economic Development Corporation's online cost of living comparison tool, someone living in San Francisco and making $125,000 USD per year could lead a comparable lifestyle in Denver making $72,000 USD per year. 
With this lower cost of living for Coloradans, companies can save money by paying a lower salary that still affords a high quality of life. Colorado companies can also save on office space real estate, utilities, and state taxes (one of the lowest in the country). 
Lifestyle
Colorado is one of a kind when it comes to entertainment and lifestyle. With world-famous music venues like Red Rocks Amphitheater and four national parks, the entertainment options are endless. After work or on the weekends, Coloradans can also take advantage of the many craft breweries. In fact, Colorado is known as the "Napa Valley of Beer". It isn't uncommon to grab a cold one and sit in good company, on a patio strung with lights.
Another huge pull to the state is the mountains in our backyard. The skiing is world class and in the summer, mountains are the perfect destination for hiking, biking, rafting, and fishing. 
Colorado also has a diverse and welcoming community. Governor Jared Polis is the first openly gay governor in the history of the US, showing the emphasis placed on inclusion and diversity. There is also large support of the international community that contributes to making the state even stronger. 
Collaborative business environment
Colorado's culture really is different. Executives quickly find that it is easier to get meetings with people, and employees are more willing to offer assistance. This makes it easier for foreign businesses to integrate into the local business environment.
Similarly, the political environment in Colorado is much less polarized than other states. The collaborative nature of Coloradans enables us to work together on projects like building infrastructure such as mass transit systems and world-class airport.
Diverse economy
Finally, one major reason for our strong economy and our appeal to Australian businesses is the diversity of Colorado industries. The Colorado Office of Economic Development & International Trade has identified 14 industries that serve as the leaders in the economy. Companies can find their place in the market, tap into available workers, and collaborate with other companies in the same industry. The Australian companies we have already welcomed include:
Cochlear
Trisco Foods
Aurtra
Switch Automation
Accelo
photoSentinel
F-45
iVolve
SportsHosts
Red Eye Apps
Noho
Auror
Building on the Australia-Colorado relationship
Australia and Colorado are two very distant places that have a remarkable amount in common. In Colorado, we are thrilled that many Aussies have already discovered this on their own. We look forward to the opportunity to connect with even more Australian businesses. 
If your company is interested in learning more about Colorado and what we have to offer, we encourage you to connect with us.