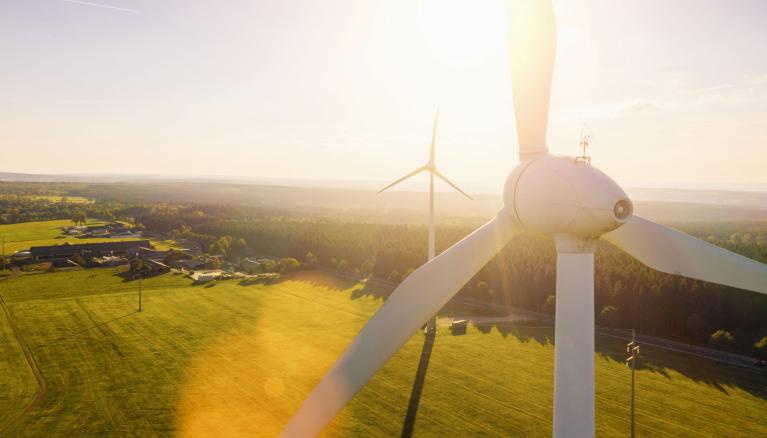 Here in Colorado, we are known for our pioneering spirit. When the Transcontinental Railroad bypassed Colorado for Cheyenne, the people of Colorado built their own rail line up to Cheyenne. That same pioneering spirit can be found in Colorado's enterprising, creative solutions to age-old problems. 
Colorado's vast landscape is chocked full of resources such as natural gas and oil. Its mile-high breeze and over 300 days of sunshine per year, make our state ripe for alternative energy industries. With a pioneering spirit and endless opportunities in clean energy, it's no wonder Colorado is a proud leader in renewable energy innovation and development. 
Our planet has a finite amount of non-renewable fuel and energy, so companies looking to a shared future for their businesses and our environment are pioneering alternative, renewable resources. Colorado's 'can do' attitude has made it a prime location for alternative energy, with over 6,000 energy companies setting up their flagship offices in our state.
Colorado has been enthusiastically on board with the renewable energy movement since its birth and the state doesn't take its reputation as a hub of clean energy innovation lightly. Passionate about discovering creative solutions and conquering a new frontier, Colorado is a proud leader in the development of renewable energy. 
Who is Choosing Colorado?
Companies that share our forward-thinking vision of a cleaner planet, while also seeking a hospitable business environment, choose Colorado as their renewable energy destination. Since our state is a well-known and well-respected location for alternative energy, our talent pool attracts like-minded individuals who strive for world-class innovation, paired with full support from both local and state governments. The list keeps growing as businesses discover the potential Colorado has in the renewable energy field. 
Vestas
Vestas' manufacturing facility in Pueblo holds an impressive distinction: its highly skilled workforce builds more wind towers than any other facility in the world. In 2010, Vestas Wind Energy opened its massive 13 million square foot facility before wind energy caught fire in the United States. When Vestas executives explored the optimal location for their US production facility, they found a collaborative partner in Colorado with one of the most skilled workforces in the nation.
Colorado's commitment to cultivating a vibrant renewable energy industry and the necessary training and education required for these jobs has helped make Vestas a worldwide leader in wind energy. Currently, Vestas' wind towers contribute to approximately 14% of the electricity that comes from wind energy, which is one of the highest in the nation.
Namasté Solar
Colorado's abundant sunshine is a bright spot for solar energy and solar panel companies. Namasté Solar, with operations in both Boulder and Denver, focuses on both residential and commercial solar energy products. 
The company's solar energy business is proudly employee-owned, which is a strategic transitional business plan supported by Colorado's Office of Economic Development and International Trade.
Xcel Energy
Colorado's Energy Plan boldly aspires to achieve more than half of the state's energy production from clean, low-cost, alternative energy resources by 2026. Xcel Energy is leading the way in Colorado by harnessing hydro, wind and solar energy via massive solar panels, providing clean energy to millions of customers not only in Colorado, but across the Midwest.
Why Should Companies Explore Colorado?
Colorado's commitment to renewable energy, its wealth of natural resources, the depth of programs and initiatives to attract and sustain businesses, as well as its highly-rated quality of life make our state the perfect place to grow your business. Employees who love where they live excel in their personal and professional lives. Simply stated, happy employees stay put. With the affordable cost of living, lively arts scene, focus on health on well-being, extensive array of outdoor activities and top-notch food scene, Colorado is a place where workers don't just survive... they thrive!
Colorado's spirit of innovation and history of creative solutions to complex problems makes us the ideal location for the innovators and creators of tomorrow. Come find out why Colorado is the perfect fit for your renewable energy company.